Make an Easy Marketing Shot With Custom Umbrellas
Umbrellas are something everyone needs in their everyday life. According to Advertising Specialty Institute (ASI) reports, around 45% of Americans own custom umbrellas.
Plus, on an average, printed umbrellas are retained for an impressive period of 14 months or more, clocking up around 1,100 impressions during that time. Does it sound too good to be true? Here are some more winning features of custom umbrellas that you may have missed out.
Versatile
No matter whether you wish to use  custom umbrellas as trade show swag , employee gifts or employee appreciation handouts, these logo items will never look out of place. Ensure comfort to the recipients in bad weather while representing your brand alike with printed umbrellas.
Incredible variety
Custom umbrellas are available in an extensive choice of canopy color options to fit your marketing campaign requirements. So, there is literally a shade to suit every brand identity.Whether you want to go big with golf umbrella or keep things compact with a travel friendly telescopic umbrella, you have a lot of choices on offer.
Golf Umbrellas
Fashionable and massive, golf umbrellas are a rage in promotional circuits these days. Popular both on and off the greens, these umbrellas will set up a perfect background for your logo and artwork. Make use of the generous imprint space of golf umbrellas to make your brand stand out. Plus the low order minimum requirement will make it easy for you to place smaller orders for family events or start- up companies.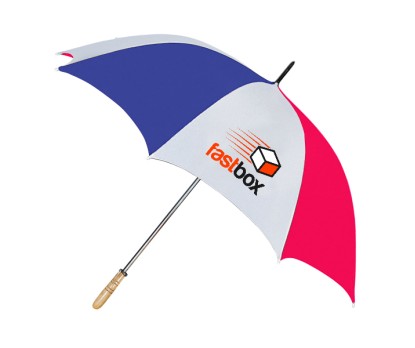 Choose from various colors including full color models if you fancy a dramatic brand display. Square shaped canopy golf umbrellas will easily make heads turn. Explore our exhaustive collection of custom golf umbrellas   that will keep your customers comfortable and your brand perfectly visible on even a rainy day.
The large canopy design will ensure maximum protection for 2 people from the rain. Ideal not just for promoting golf clubs or golf leagues, these trendy umbrellas make excellent promotional items for hotels, car show rooms and wedding venues among others. Lightning resistant, light weight and wind proof, golf umbrellas feature fiber glass ribs and frames to make it a reliable choice for the wind swept greens.
Anti wind umbrellas
Designed to stand up to heavy winds , these sturdy anti wind umbrellas won't collapse in extreme weather, which would also mean that your branding will be on display in even the most extreme of weather conditions. Choose from a wide range of colors and sizes.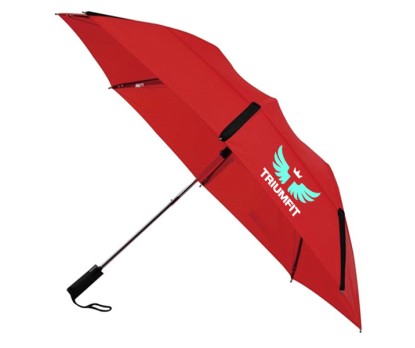 Want to find the best budget umbrellas? Feel free to get in touch with our friendly team to get more tips.