Open Umbrellas With Rain Drops Is The New AIDS Awareness emoji
On the occasion of World Aids day that falls on Dec 1st, Umbrellas with Rain Drops that represent safe sex has been chosen as the new emoji for Aids awareness all over the world. Chosen through a global poll, this symbol will empower young people to talk about safe sex and to enhance their awareness about reducing the risks of Aids.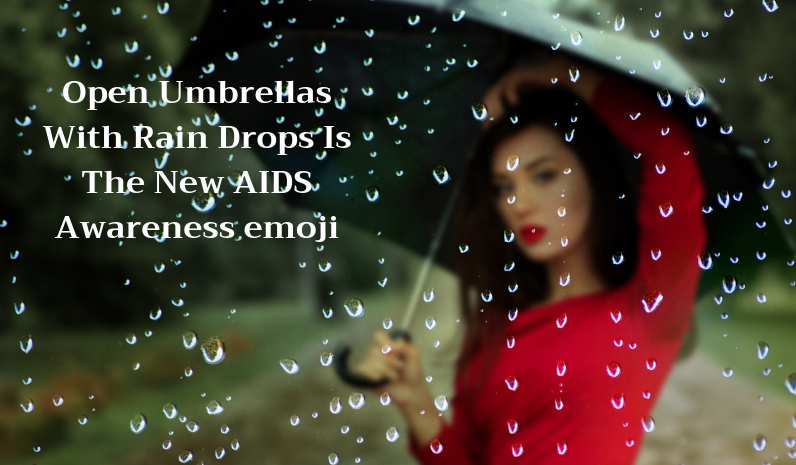 Health care institutions, non profits and entrepreneurs who may be planning awareness campaigns on World Aids Day can consider custom umbrellas for the same reason. Red ribbon has always been the conventional symbol of Aids awareness; now you can also utilize the potential of red umbrellas in getting your awareness message across, The generous imprint area on the canopy can be fully exploited to  place your brand and aids awareness message. These logo umbrellas can be handed out during community events, heath care camps or during store promotions.  The high utility items of umbrellas will get a high retention and every time your recipients use these logo items, they will feel proud to be associated with this social cause.
Here are some custom umbrellas that you will find great choices as handouts during Aids awareness day campaigns and events.
43 inch Arc Raindrop Umbrellas: These brilliant red umbrellas come with various useful features including automatic open, wind resistant, windefyer vented canopy and more, which makes it a perfect awareness gift for World  Aids Day. If you are looking for a light weight and handy umbrella for your awareness campaign 42 inch Arc Trendy Telescopic Folding Umbrellas will make  a high value gift to consider. Easy to carry in their bags, these portable umbrellas hold incredible promotional powers.43" arc poco umbrellas is another interesting model to consider. The manual open umbrellas with red nylon canopy, steel windproof frame, and rubberized handle ensure assured ROI.
Take your Aids awareness message farther and wider by putting it on these massive Red 60 inch Arc Golf Umbrellas that make heads turn not just in the greens but anywhere these pop up.
2351MM Revolutions Umbrellas with Auto open function, new wind reflex frame, sturdy steel shaft and red rubberized handle will make a great addition to your awareness campaign handouts. Impress your audience and inspire them to work for this important social cause by distributing these attractive and functional umbrellas.
Being on a budget does not necessarily take out the steam off your awareness campaigns any more. Check out these 43 inch Arc Mini Windy Umbrellas  that can withstand high winds with ease and are easy to carry around. These umbrellas make great talking topics in the social circles of your recipients, which means your message will get a wider secondary audience in the process.
Are you planning to use red umbrellas as your awareness items? Share your thoughts in our comments section below to join the conversation.