A Few Sound Reasons to Use Printed Golf Umbrellas as your Marketing Swag
At a time when more business discussions happen on the greens rather than in board rooms, custom golf umbrellas indeed make a great investment with assured ROI. Printed golf umbrellas are available in a palette of colors and a variety of beautiful designs, which are liked by all.
Designed to meet the demands of the wide open greens and the active audience, golf umbrellas will put your message on a portability curve. Lightweight and easy to carry, golf umbrellas are an attractive way to send across your message more effectively.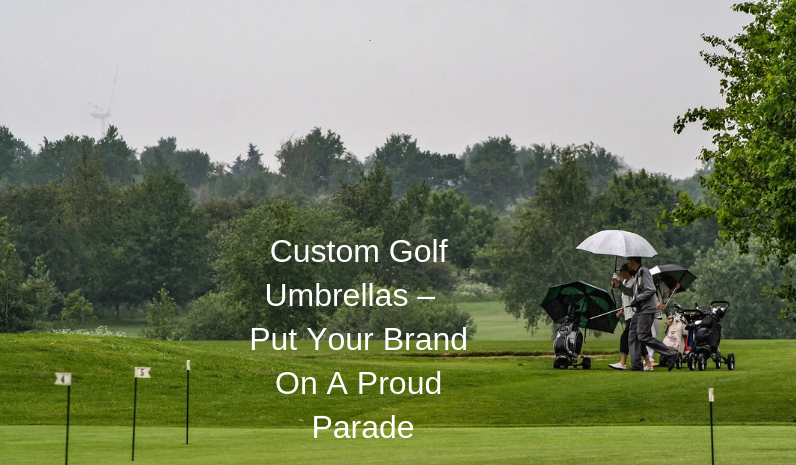 Apart from keeping your recipients safe from weather elements, these brilliantly colored umbrellas also double up as a fashion catalyst. Marketing your brand is the key to make new leads and make good sales as well as promotion. Offered in a variety of solid colors or attractive prints, custom golf umbrellas will set a perfect backdrop for your message.
Something special for everyone
Custom golf umbrellas are available in classic designs like those with wooden handles and in casual models like the full color dye sublimated canopy to offer something special for every need.  Interestingly, golf umbrellas are not just used by  the golfing community anymore and these large sized umbrellas are ideal to be used for many outdoor activities, like parks and beaches. The high visibility imprint space of golf umbrellas make it a prime real estate for marketers to position their brand and message.
Easy to customize
The massive canopy of these custom umbrellas will let the marketers unleash their creative potential at its best, Whether it is text, taglines or artwork, anything will look good on these full color umbrellas that can stand out easily even in crowded golf greens and other outdoor events.
Portable
Golf umbrellas are light weight yet sturdy  thanks to its fiberglass design, which makes it easy for the users to carry it across the venues. Designed to be lightening resistant and moisture resistant, golf umbrellas are ideal for both rain and shine. Apart from keeping the players well shielded these full color umbrellas will make  it easy for the audience to spot their  favorite players amidst the vast expanses of the golf links.
Versatile
Offered in a mind boggling range of models, which will impress both ladies, gents, and children, these stylish umbrellas indeed will get used in various  places  beyond the greens to make it a high  visibility marketing tool that will make heads turn.
High visibility
Reinforce business relations and make new leads with custom golf umbrellas that stand out with ease and make your message a favorite banter topic among the fans and players alike!
How do you plan to use custom golf umbrellas as your promotional swag this season? Feel free to share your ideas on our instagram page.
Share and Enjoy