The Best Logo umbrellas for Summer Events
With summer at its glory in America, it is a great time for marketers to choose custom umbrellas as handouts to equip the customers to face the sun and stay safe from UV rays or the occasional mild summer storms or shower. Umbrellas available in a wide range of models in every price rate.are indeed a fantastic investment for corporate businesses.
Here are some popular custom umbrella models that will help you get started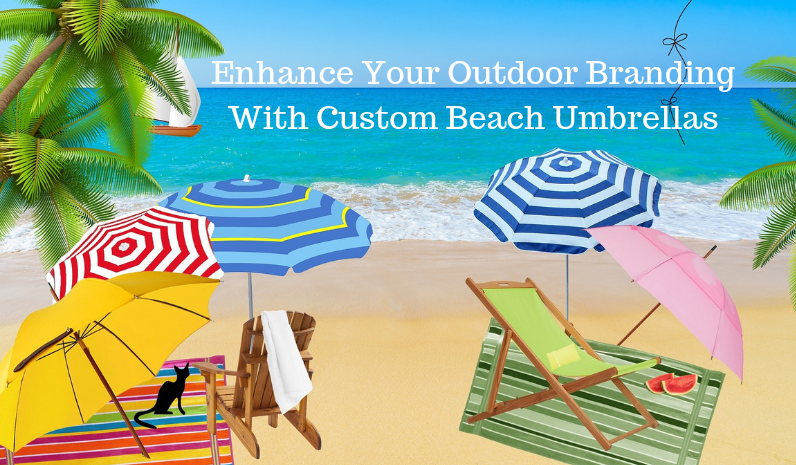 Promotional Beach Umbrella
There can't be a better time than summer to think of custom beach umbrellas as promotional items. Ideal for every outdoor event and occasion, these fantastic beach umbrellas with sprawling canopy and brilliant color choices are a necessity for any outdoor summer activity. Durable steel frame and tilt feature will ensure the optimum protection from sun while ensuring a panoramic display for your message from a distance and that too for many years to come!
Umbrellas with printed Inner canopy
For a subtle  feel, check out these auto open umbrellas with a beautiful cloud pattern on the inner canopy. These medium-size umbrellas are the perfect way to stand out in the rain. Coupled with your unique brand or logo, this umbrella will earn easy attention of everyone around without being intrusive. This umbrella will make a great addition to the weather wear items of your recipients during rain and sun alike. Take your brand to the next level with this fabulous umbrella.
Antiwind every day umbrella
For daily use for office goers, and people on the move, branded auto open umbrellas will make a great choice. Easy to operate  and carry, these umbrellas are available in a wide range of color choices . Models like antwind umbrellas will keep the users confident even in the worst weather conditions because even the lashing winds won't be able to ruin their day.
Golf umbrellas
Logo imprinted golf umbrellas will  make your message popular not just in the greens but in the fashion high streets, picnic venues and college campuses as well. Offered in various sizes,  these sturdy yet light weight umbrellas are well suited for all types of outdoor activities like corporate golf events. Make the best use of the massive imprint space to make your message pop!
Feel free to reach out to our sales team today about the large range of custom umbrellas and imprint options to come up with a stunning custom product.