Custom Umbrellas Make All Weather Promotional Gifts
Umbrellas were originally intended to protect people from the sun, but most of us find it more useful in rain. Umbrellas make a great handout round the year including fall and winter season.
 Light weight, yet sturdy, custom umbrellas are offered in a range of price points and offer something special for everyone. Umbrellas are gender neutral; you can handout to any class of your audience without ending up red faced- no matter which color or model you pick up.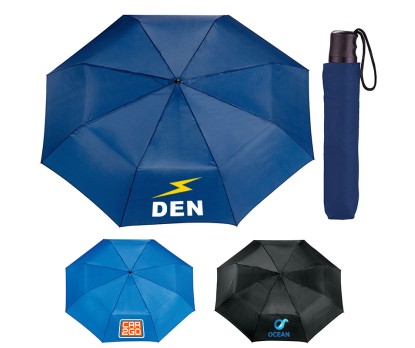 The large canopy will double up as a mobile and colorful canvas for your brand. Make use of the space intelligently by placing taglines or artwork in a subtle yet noticeable way so that your recipients will find them interesting.
Why umbrellas?
Durable: When you handout umbrellas, your recipients get a well retained, high utility gift. Did you know that umbrellas are retained for a minimum of 16 months or more?
Good advertising effect: Umbrellas have a large imprint space that is not shy to attract the eyes of everyone around. Umbrellas make all-weather advertising, people use it always; if not as weather wear, style accessories or props.
Best value for money: The high retention of umbrellas will make sure that the marketers get the best value for money. Customers use it for more than a year, set off word of mouth publicity and make your brand popular.
Practical: Whether you use it as sun shade or rain guard, umbrellas ensure the best weather protection and make people feel safe and reassured. Whether it is the city or country side dwellers, adult or child, everyone will find umbrellas useful.
Long term advertisements: Anything imprinted on umbrellas will remain in front of the world for a long time because umbrellas have a long life. Not many people scrap it until it gets damaged. So your advertisement gets a lot of attention and appreciation.
Visually appealing: Umbrellas are available in vivid colors, exquisite design patterns and even delightful arts of work, that your recipients find hard to resist.
Planning to use custom umbrellas as handouts? Browse our collection and choose models that are functional and fashion forward.