Custom Patio Table Umbrellas- Outdoor Promotions At Its Best
Fall season is a perfect time for restaurants to set up outdoor tables and patio dining options to ensure alfresco dining options for their patron. Patio umbrellas will add a fun pop of color and shade to the customers without cutting off the beautiful outdoors settings. Offered in various styles, patio umbrellas offer shade even when you are outdoors and amidst nature.
Patio umbrellas are light weight and look out when placed on the table, making outdoor life so much easier. Ideal for pool side, deck and outdoors.
72 inch Arc Reinforced Patio/Beach Umbrellas: These make a high visibility billboard for your brand and double up as shade. Patio umbrellas can extend your business space and  help you make use of the outdoors more effectively. The main features include 72" arc black canopy with drawstring closure and shoulder strap with crank and tilt mechanism. These umbrellas can cover up to thirty (30 inch patio table) and feature an adjustable shaft and 8 panel configuration. The reinforced design of these polyester umbrellas make it ideal for windy patios, outdoors and beach shores.
86 inch Arc Islander Beach/Patio Umbrellas:  Looking for a bigger canopy? Check out these 86" arc lime green patio umbrellas with a windefyer vented canopy, manual open function and double locking steel pole with a tilt feature.  These are great for all types of outdoor events, cafes and special promotions.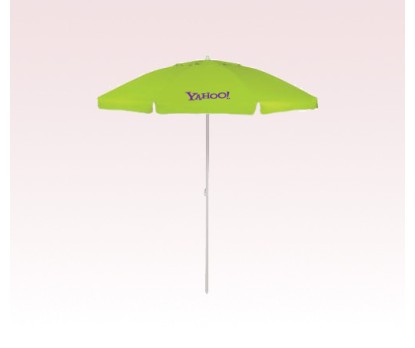 100 inch Arc Large Ten Panel Patio/Beach Umbrellas with Fiberglass Frame : These imposing umbrellas are great for outdoor promotions, beach events, store front promotions, street corner marketing and more. These big and bold umbrellas will grab the attention of a huge crowd and can be spotted from a long distance. People are likely to get drawn to these umbrellas fairly easily. The strong fiberglass frame will make it ideal for less than ideal weather conditions. The adjustable tilt system with push -button ensure desired angles of shading. These 10 panel umbrellas will offer a massive imprint space for your message and artwork. The flat bottom pole and Push up lift are the other notable features that enhance its functionality.
Which of these patio umbrellas are you making your promotional items? Do share your thoughts with us on facebook page.