Redefining Best Of The Lot Custom Umbrellas- Must read
Seasons change ; but there are quite a few daily use items like umbrellas that are destined to be part of our daily lives all round the year. From enduring the storms and the frost to keeping us well covered from the wrath of the sun, umbrellas do a commendable job all round the year. However, it is interesting to note that not many people think of buying an umbrella for themselves till they are literally caught in the midst of a downpour.
Marketers have always been impressed by the massive marketing potential of custom umbrellas. The generous imprint area of the umbrellas can carry their brand and message in style and keep well hoisted above the competition and the marketing battles. Umbrellas are available in a range of colors and models that it is never too hard to find a model that matches the needs of your target audience. From golf umbrellas to market umbrellas and fashion umbrellas, there are dime a dozen models to choose from. Everyone needs umbrellas; not just as weather wear items but stylish accessories and props that will get more attention than you expect.
Celebrate the change in season and usher in the spring colors with these best of the lot custom umbrellas. To make it easy for you to get started, we have listed a few of the best selling models that will never fail to make heads turn!
Economy Auto Open Folding Umbrella: These simple auto open umbrellas are designed for what they are meant to – to protect the users from the bad weather woes. Offered in a range of colors, these folding umbrellas will make a great way to get your message across.
Wind Umbrellas: Aesthetically pleasing and functional, this automatic open nylon umbrella with steel windproof frame will make a great choice to consider. Customize these with your brand and message to make it a walking billboard for your brand.
44 inch Vented Custom Promotional Umbrellas: The vented windproof canopy construction will make these umbrellas a trusted choice for rough weather conditions. Your message and brand imprinted on these will get a lot of attention for sure.
Rain or Shine Light Umbrellas: As the name suggests, these umbrellas are well suited for both sun and rain. Designed to double duty as flashlights, these logo umbrellas make thoughtful gifts for people commuting at night time or working in remote sites. We bet, your brand on these will become the hottest talking topic in town!
Clear View Safety Umbrellas: These umbrellas stand out for its transparent canopy design that will get them a lot of hard core fans for sure. Customize these with your brand and message to make it a high profile marketing item.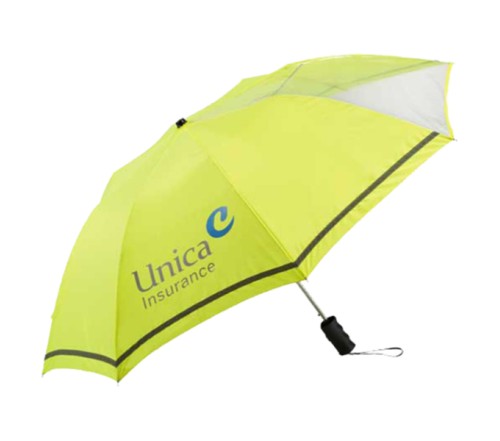 Vented Color Crown Umbrellas: These attractive 2-tone umbrellas will bring together fashion and functionality in equal measures. Imprint your brand and message on these logo umbrellas to make it a high profile business gift that not many people can resist!
We have an exclusive section of custom umbrellas in all possible models and price rates. Browse along and choose a model that matches your budget and promotional needs. Visit our facebook page for more updates and news from the exciting world of custom umbrellas.