Logo Umbrellas For Bigger Brand Identity
Umbrellas are very common promo gifts for many reasons, one of them is for being free walking advertisements. Though umbrellas are expensive products , these are very common to use. Going out in the summer outdoors can be inconvenient; useful handouts like custom umbrellas will keep the users safe from UV risks while enhancing their outdoor style. Customize the generous canopy with your logo and message to drive your brand exposure and popularity.
Umbrellas have a big imprint surface and hence can be customized by adding any pattern and logo. Available in various material choices and models, umbrellas will stand out in the crowd easily while reaching out to the right target group. . Umbrellas are very effective in outdoor settings since they  have a large print area where you can place your brand logo on all panels , alternate panel or one panel.
 Why should you use custom umbrellas?
Brand awareness
Umbrellas are universal and hence people will find it easy to relate to your logo  on it easily. Advertise in the community to  earn your brand  the much desired  attention.  The best part is that your brand will be part of every outdoor experience of your audience.
It will drive up your brand exposure and take your message wherever they go. Because of  the high utility of umbrellas, your brand on it will get a great display wherever they go even in different parts of the world.
Fully customizable
Another reason that makes custom umbrellas popular is the high customization. Available in different shapes, colors and materials, umbrellas support various branding designs. So, you can choose models that meet the tastes of your target customers for a better impact.
Marketing is all about making your brand well known. This custom umbrella branded with your custom logo will deliver your message with precision. It can be customized using different printing techniques including full color digital imprinting to come up with dramatic designs that match your team or company.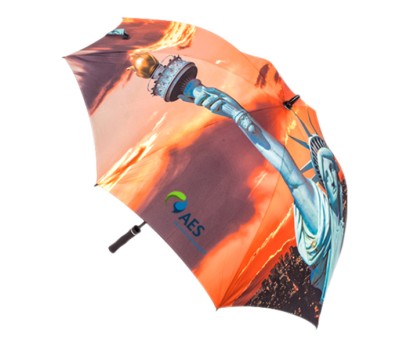 Versatile
Umbrellas as marketing tools are ideal for all types of businesses and brands. For instance, custom patio umbrella is a proven choice for promoting beer brand, restaurants and breweries and to take their brand promotion outdoors. In addition, organizers of outdoor events, such as concerts, festivals or sporting events will also find umbrellas a great choice.
 Umbrellas can be effectively deployed in all types of promotional plans and ideas.  Planning to host an awareness campaign or a a fund raising event? Custom umbrellas will make a great choice to consider.  Make use of the massive canopy to highlight the social cause your are supporting. It will grab the attention of everyone around and will make the recipients feel proud to be part of the event. It can be customized as donor gifts or volunteer giveaways to get your message far and wide.
Team spirit items
Likewise, umbrellas make excellent team spirit swag for your sports teams. Whether it is a golf holiday or local league, these impressive umbrellas will take your message into the sporting venue and get people take note of your brand. Just think of the impressions your brand will make, every time your employees carry it during holidays and  beach trips. Your message will get a fresh set of audience well beyond the target audience.
Popular
Umbrellas will easily appease every genre of audience in all age groups and demographics. Everyone needs it to stay safe from elements and stand out in style among the outdoorsy crowd during fair weather events.
Models to consider
Umbrellas are available in a wide range of models including the classic standard umbrellas to the pint sized mini umbrellas and the innovative inverted umbrellas – to name a few. If you wish to add a fun twist to your promotions, Check out these cooler umbrellas. This multi functional model includes an umbrella and a cooler that allows the users to stay cool in its complete sense. Your brand and message on these umbrellas will indeed get a lot of attention wherever your recipients go.
Low minimum order
Custom umbrellas offer the convenience of low minimum order quantity that will make it a great option for small events
Check Out these Latest Designs!
Umbrellas are no longer plain and bland. These days the promotional market is inundated with a range of trending models that will offer something special for everyone.  Check out these music umbrellas that will offer the dual utility of umbrellas and music player alike. A huge hit among beach goers and the party crowd, these umbrellas will grab the headlines this season!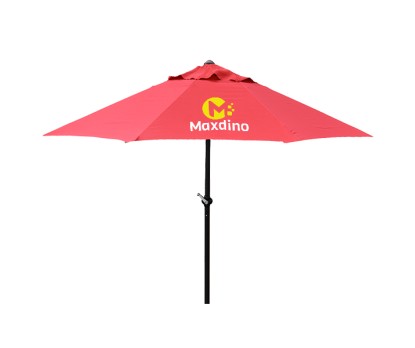 Why Do marketers like custom umbrellas?
High Quality: Custom umbrellas are indeed high quality handouts that will make customers feel like they are getting value for their money. Customers will surely appreciate this and might even become loyal to the brand. The more loyal customers, the better will be your chance to stand out among the competitors.
Design Appeal:  Umbrellas are available in a wide range of vivid colors and attractive prints. The 2 in 1 function models like flashlight umbrellas are very convenient. It will make your customers interested in your brand. The huge branding space also makes this a very good promo item.
Exclusive: Some innovative models in umbrellas like inverted umbrellas that keep rain water trapped within its fold without spilling it out take credit to an element of exclusivity. Hands- free umbrella is another choice. It happens sometimes, to have so many things in  hands and hands free umbrellas come to the aid in such situations  as it can be held with the fist thereby making the hands free for other chores like holding a  phone or water bottle.
These are truly unique models that could help to boost your brand awareness and value. In addition, your recipients will surely love to bring it with them everywhere including while watching a match or on a shopping day, all the while ensuring your brand a grand display in front of a massive crowd!
Get In Touch With Our Team
If you're interested in custom umbrellas and would like to find out more information, feel free to contact us. We would be happy to walk you through our wide range of products and concept ideas.