Umbrellas As Promotional Products
Shield your clients and employees from the hot summer sun and harmful UV rays with custom umbrellas as a promotional product. Apart from blocking the radiation and heat, umbrellas will make a glaring billboard for  your brand. Marketers can make the best use of the massive imprint space of umbrellas. for a spectacular visualization and branding. Along with this there is plenty of potential to match your corporate Pantone colors.
To stand out in a highly competitive market, businesses need to adopt a focused marketing strategy. Interesting promotional giveaways like umbrellas are versatile and easy to incorporate into any promotional plan. Umbrella also have the longest retention of over 14 months, which makes it a great value promotional gift.
Take your branding on the move
 Umbrellas also enjoy a high visibility as they remain out  and about at all times. Whenever your recipients  take it to the golf greens or sports grounds, your brand will get a wide angle display among everyone around. A well customized umbrella often make a great talking topic among people.
Though a branded umbrella may initially seem like a costly and strange investment for some marketers, it can help you to reinforce the brand image and take your message to a new audience group.
Versatile
Marketers can use custom umbrellas in countless ways. Bars and restaurants  by investing in beach umbrellas or patio umbrellas can engage  their patrons with their message on a more personal level. This type of  strong engagement with a customer in a comfortable environment will undoubtedly contribute to an increase in its perceived value.
Moreover, branded umbrellas can also be used as an excellent in store display, to enhance the overall ambiance of the stores. It will also evoke a sense of curiosity in the minds of the audience.
Umbrellas as promotional items
One of the most important factors to consider while choosing the perfect promotional item for your business is the branding space. A custom umbrella has a great branding area on the canopy, to print your logo and artwork on it.
Along with this, umbrellas are commonly used during summer vacations, during which its marketing potential will indeed be huge. While using a branded umbrella during the vacation, your customers will unwittingly connect the fantastic feeling of the holidays with your brand. This  way, businesses can effectively enhance customer retention and their product awareness.
As Point of Sales displays
 An interesting POS display will send out a message of luxury and class. Thus your customers will surely associate you with high quality products while your brand image  gets a surge. Marketers looking for custom products with the highest perceived value, will find custom umbrellas a perfect choice
Choices galore
In addition, there are different models of umbrellas in diverse material choices and sizes.  Though all umbrellas are designed with the basic function of blocking sun's rays, there are also innovative models with add-on features. For instance, flashlight umbrellas offer the dual utility of a flashlight and an umbrella at once; whereas cooler umbrellas bring together the best of both the worlds of a cooler and an umbrella. Thus you can choose the most appropriate model  that will meet the needs of the audience.
Here are some popular umbrellas models that you may find interesting
Mini umbrellas are one of the most affordable models. Made of durable materials and available in a palette of colors, these travel size  mini umbrellas make fantastic promotional products. The product is very convenient as it doesn't take much space to store.
Auto open umbrellas
These high end auto open umbrellas will make the outdoor lives easier for your prospects, and are well suited for people who travel regularly. Available in various models, these logo umbrellas will surely add a fun twist to your branding.
Antiwind umbrellas
Umbrellas that get blown over by winds is a nightmare for most people. Hand out these reliable anti wind umbrellas that can withstand wind due to its vented design that lets off the pressure of the winds. Choose from various sizes and colors to meet the unique needs of your audience.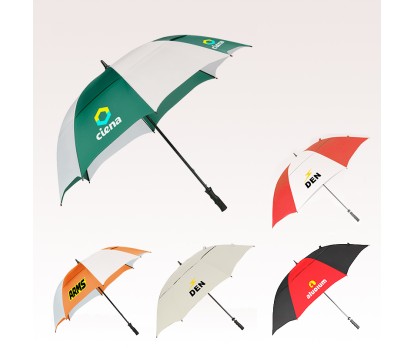 Golf umbrellas
golf umbrellas are probably the most popular among umbrellas It has come a long way from being an exclusive golfer's staple to a popular choice among the youth and family audiences alike. The generous canopy  is ideal for 2 or more people while the brilliant colors; and the wind resistant and lightning resistant features are a  big plus. Choose from various sizes and models to complement your branding theme.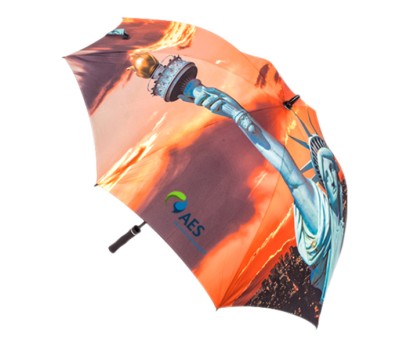 Inverted umbrellas
Offer a  respite to your audience from wet umbrella woes in rainy season with this smart handout of inverted umbrellas. Designed to keep water within the folds without spilling it over to the floors, these handouts are a boon for everyone. Needless to say, your brand imprinted on these giveaways will get easy eyes even in torrential rains!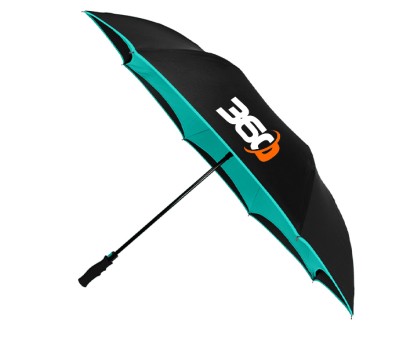 Hands free umbrellas
Holding the umbrellas keeps the hand of the users fully occupied. However, here comes a smart alternative of hands free umbrellas with a loop handle. It can be balanced using wrists , which in turn will free up the hands of the users for other chores like holding bags or phones. Add your logo and message on these hand free umbrellas available in a palette of vivid colors to stay spotted even in less than ideal weather conditions!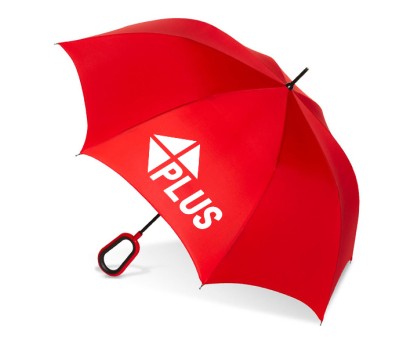 Multi functional umbrellas
Check out this interesting umbrella that is much more than a weather wear item. Music umbrellas keep the users well shielded from elements while ensuring a soothing musical experience. Ideal for promoting hotels, beach events and more, these umbrellas feature 2 built-in stereo speakers with Bluetooth connectivity and water resistant features. These custom umbrellas with 8 panels are also having crank opening and also sturdy 38mm steel frame construction.  Choose  colors that complement your theme to make heads turn!
Benefits of custom umbrellas
The  first impression that custom umbrellas leave among the audience is its dramatic visual appeal that will prop your brand into a higher level.By offering these premium quality gifts, marketers can easily increase product recognition and brand awareness. Furthermore, umbrellas will let the recipients think of  your brand every time they uses it. Therefore this campaign will have a great benefit by improving the customer retention.
Curious to know which promotional umbrella fits perfectly in your business and marketing campaign? Feel free to reach out to our product team for  ideas and tips and stay ahead in the competition.