Incredible Benefits of Using Custom Golf Umbrellas
Golf umbrellas are designed for use during golf events. Sturdy and light weight alike, these umbrellas have fiberglass ribs and frames and vented canopy that will allows wind to pass through easily. They are also typically brightly colored so that they can be easily seen by spectators.
Most people don't think about umbrellas until they need one. In Today's world, umbrellas are so much more than just a way to stay safe from elements. Apart from being a key item in any golfer's kit , golf umbrellas also make  an incredible promotional item for marketers. marketers can customize these umbrellas to meet the promotional needs. In addition as they're made from materials that can withstand the rigors of  the greens, golf umbrellas will ensure long term brand expsoure.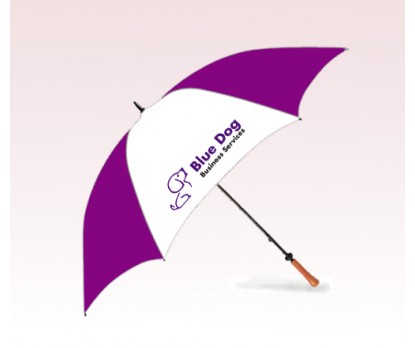 Benefits of Using a Custom Golf Umbrella
There are many benefits to using logo golf umbrellas both for the player and the golf club. Here are a few promotional benefits that you might not have thought about.
High visibility Branding
Custom golf umbrellas are an excellent way to promote your brand at any golf themed event. You can imprint your logo or company name on umbrella to help to increase your brand visibility.
One of the best things about custom golf umbrellas is that they provide an easy way to get your brand out there. Add your logo, an interesting design and your contact details on the massive canopy of umbrellas to make it stand out. You can even choose full color digital imprint golf umbrellas that will never fail to impress the audience.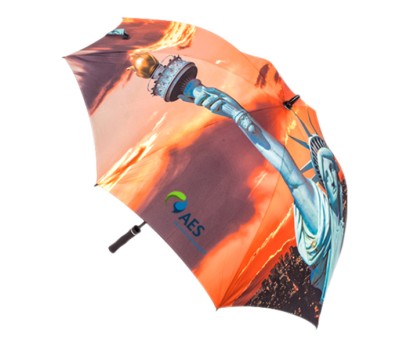 Stand Out from the Competition
Custom umbrellas are also a great way to make sure that your brand stands out from the competition and get easy attention of your audience. By handing out golf umbrellas at your next event, you can easily turn heads and make a lasting impression.
Giveaways with a high perceived value
Another great thing about custom golf  umbrellas is that they're an effective way to promote your brand. Unlike many other promotional products, umbrellas offer a high return on investment. In addition, umbrellas have the highest retention of over 14 months , during which it will make consistent impressions for your brand . You can order them in bulk to get the best deals.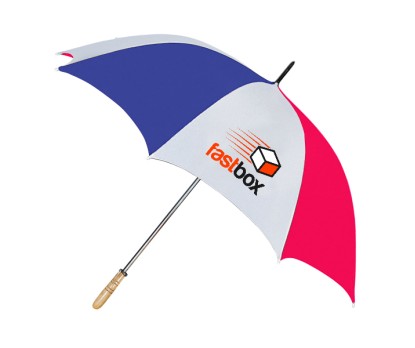 Protect golfer's Equipment
Custom golf umbrellas also help to protect the player's equipment from elements like rain or sun while keeping the players well shielded.
Increase Visibility
Brightly colored custom umbrellas will also keep the players visible in the vast greens. When the players are on the course for several hours, a brightly colored Umbrella will make it easy for  spectators to spot and cheer on!
How to choose the right Golf umbrella for you
As any golfing enthusiast knows, a high-quality umbrella is essential for staying comfortable during those long days at the greens.  Here are some handy tips to help you find the best custom golf umbrellas.
Consider the Size
One of the most important considerations while choosing a custom golf umbrella is its size. Make sure to choose an umbrella that is large enough to provide adequate coverage but not so large that it becomes difficult to handle. Generally , a 42-inch arc golf umbrella is a good choice.  If the golf greens are in an area with particularly gusty conditions, choose a double canopy golf umbrella that will prevent your umbrella from blowing away in strong winds.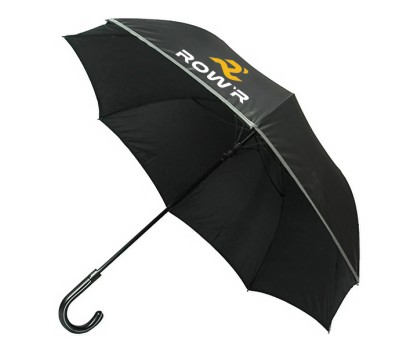 Choose  the  Materials Carefully
The canopy material should be made from durable fabric that can withstand repeated use and exposure to the elements. From nylon to polyester and pongee, you have multiple choices to consider. The water repellent and fade resistant canopy fabric will set a great backdrop for your promotional message and artwork. The frame of your umbrella should also be made from high-quality materials such as aluminum or fiberglass that is strong and rust proof.
The frame of an umbrella needs to be strong enough to support the canopy in high winds. However, it has also to be lightweight so that it doesn't add unnecessary weight to the caddy . The most common material used for umbrella frames is aluminum or fiber glass. Light weight and corrosion resistant, these frames will enhance the shelf life of umbrellas. This is an important consideration because umbrellas are often stored in damp conditions.
The Canopy
The most important part of any umbrella is the canopy as it is the part that keeps you dry. So, ideally it should be made from a material that is waterproof and windproof. The most common material used for racing umbrellas is polyester. Polyester is a synthetic fabric that is lightweight yet strong, making it ideal for high-speed conditions. With so many options available, there's sure to be a material that's perfect for your next golfing event!
The Handle
The handle of the golf umbrella should be comfortable to hold and should ensure a firm grip  even when wet and slippery. The most common material used for it is plastic though wood and aluminum are also popular choices.
Sturdy design matters
When selecting golf umbrellas, wind resistance will make an important factor to consider. Choose umbrellas with fiberglass frames and ribs that can withstand gusts and will last for seasons to come. Double canopy umbrellas and antiwind umbrellas too make great options for the greens.
So next time you are getting ready for a corporate golf holiday or a golfing event, be sure to include custom golf umbrellas in your list of must-haves!