Logo Umbrellas- The high visibility handouts that everyone will appreciate
The best handouts should meet promotional needs of the marketers and leave the audience impressed! Not a tall claim!  Custom gifts like umbrellas can do this and much more.
The large imprint area is the trump card of umbrellas. Your brand and message imprinted on these will get popped up over the moving crowd during sun or rain. Secondly custom umbrellas are available in a wide range of models and price rates and you have a lot of options to consider. If you find  choosing the right umbrella a bit confusing, consider these tips.
Compact umbrellas
Umbrellas that can be folded or collapsed will make a great choice. Easy to carry and use, light weight models like mini umbrellas often come with cases as well.
Standard Umbrellas
Traditional umbrellas that never go out of trend!  Standard umbrellas with a massive fan-following, makes a sure-fire way to get across your message far and wide and still stay on budget.
Golf Umbrellas
Massive and eye catchy, golf umbrellas are not just popular on the greens but beyond as well.  These large  and vividly colored umbrellas can hold 2or more people under its massive canopy; perfect choice for home and office!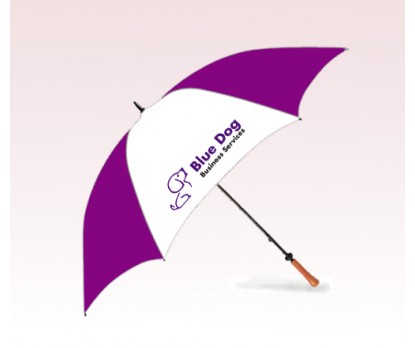 Market Umbrellas
These large canopy market umbrellas  with a shaft and a weighted umbrella base will make a great choice for street corner meetings, store front promotions and more.
Beach Umbrellas
Designed to protect the users from sun rather than shower, these pretty beach umbrellas will gain easy attention. Ideal for beach events, outdoor tradeshows and parties, these umbrellas are available in a wide range of models like those with speakers. So, the party lovers will have a perfect handout to consider.
Different Models to consider
Umbrellas are available in various models in terms of design and fabric. Vented models are more resistant to wind and are well suited for golf greens and outdoors.
Aluminum frames:  These are low cost, flexible,  light weight and handy. Models like Customized Lightweight Mini Manual 3 Fold Umbrellas can endure stronger wind gusts without breaking than their rigid counterparts.
Steel Umbrellas – These may be a bit pricey but ensure more durability and rigidity, which makes them less susceptible to bending and canopy inversion. However, increased rigidity may make it more prone to breakage from being dropped. 42 inch Arc Blue Umbrella is a great choice to consider in this segment.
Fiberglass Umbrellas: Ensuring both flexibility and rigidity, these high price models include various models like golf umbrellas among others 48 Inch Arc Custom Printed Sport Umbrellas make a perfect example. Strong and stylish, these umbrellas have a gel filled handle, Fiberglass shaft and ribs and Duraflex construction. These can withstand wind gusts up to 60mph without inverting.
Which of these custom umbrellas are you planning to make your custom gifts? Share your thoughts with us on facebook page.