How can Promotional Umbrellas impact Your Business?
Promotional umbrellas set you apart from other companies because of its utility. At a time when prospects are being inundated with mass automatic emails and advertisements, tangible gifts like umbrellas will get special appreciation from your audience. This is what makes these simple and traditional handouts like umbrellas a perfect choice. Great for promoting all types of businesses and events, umbrellas will make a valuable addition to every business campaign.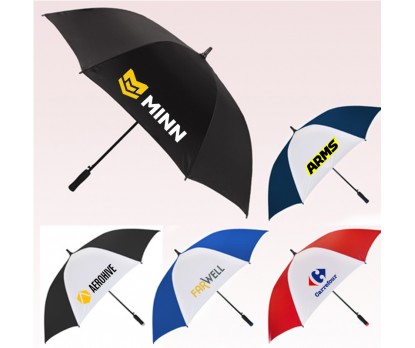 Highly effective
Everyone needs umbrellas in their daily life. While it is commonly used to stay shielded from weather elements, umbrellas also make photo props or even fashion accessories. Umbrellas were cultural symbols and tokens of social status and royalty in the past. The massive imprint space of umbrellas will make it a great vehicle for advertisement.
Offered in a wide range of choices and just about every price rate, umbrellas make a cheap and efficient way to market your brand. These are ideal as tradeshow handouts, store promotional items and fund raising items.
Multiple imprint options
 Promotional umbrellas offer a great and unique canvas for branding. Whether you wish to imprint your message on the canopy, handle or carry case, your brand will remain in plain view of your audience at all times. You can even make it understated by getting your message imprinted on the inner canopy of the umbrellas. Make sure to keep the message interesting and subtle so that your recipients don't feel like moving billboards.
Create a relationship directly with your customers.
When you hand out a highly useful gift like umbrellas to your audience for free, it will build a rapport with your business and customer. Logo umbrellas create a positive association of your business with the customer.
Make your brand stand the test of time
Long lasting and well retained, umbrellas will keep alive your brand popularity. It makes a good talking point that drums up interest for businesses. Nobody can resist these attractive umbrellas that stand out even in the surging holiday crowd.
Golf umbrellas are not just great for the greens but for the streets as well. The massive canopy can hold 2-3 people at a time, which makes it a popular choice among everyone especially the youth. Antiwind umbrellas  offer a high value gift for your recipients. These sturdy and reinforced umbrellas that are designed to withstand the winds will impress your audience for sure. If you are looking for something handy, Mini umbrellas will be a good choice. Designs to fit into bags and totes, these umbrellas  are a crowd favorite.
Need more? Browse along and choose an item that matches your theme.