Custom Umbrellas For Tour Companies
New Year festivities are at its top gear still and most people are out on their holidays. Tour and travel companies are in the midst of one of the busiest season too. While considering promotional handouts for travel companies, custom umbrellas will make a great choice.
Umbrellas can be used for staff and tourists during downtown tours. Apart from protecting the users from weather elements, these will make a walking, talking billboard that is hard to overlook.
Why umbrellas?
Umbrellas have a massive canopy that will offer a wide blank canvas to highlight your brand and message. Make it interesting by imprinting your brand, tagline, mascot or anything that the recipients will find interesting. However, make sure to keep it subtle and aesthetic without being gaudy.
Available in a wide range of models, colors and price rates, umbrellas offer something special for every event and promotional theme
Here are some of the models that can be considered
60 inch Arc Golf Umbrellas  : Durable and large enough for one or two people,  60″ arc custom imprinted golf umbrellas  will stand out not just  in the packed golf arena but outdoors as well. This manual open umbrella with unique metal shaft and wooden handle is available in 17 different colors. Designed to shrink to a size 40″ on closing, these stylish nylon umbrellas make every outdoorsy person's favorite companion.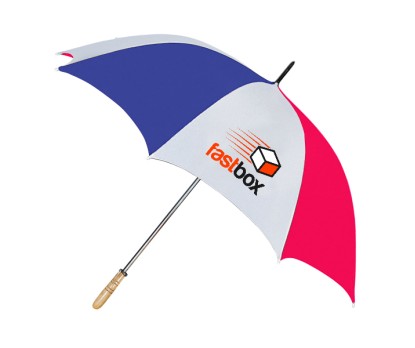 62 inch Arc Custom Antiwind Umbrellas: There can't be a better way to talk about holidays than these stylish umbrellas available in 27 different colors. Vented canopy, fiberglass wind resistant frame and pinch proof runner to protect fingers will make it easy to use for everyone.
48 Inch Arc Custom Printed Sport Umbrellas: A perfect umbrella for the fun loving, travel enthusiasts. The wind buster technology and a large canopy supported with color-coordinated handles will make these fashionably perfect umbrellas everyone's best travel companions. Needless to say, your brand imprinted on these will make a great talking topic among your recipients and everyone around.

Mini 39 inch Arc Custom Umbrellas: Easy to carry and use, these umbrellas have a metallic shaft that matches the color of the fabric. These will make a great accessory for everyone especially travelers.  Get your logo and message imprinted on these umbrellas to get the best brand visibility.
Are you planning to use these custom umbrellas as your promotional items? Do share your thoughts with us on our facebook page.