Custom Patio Umbrellas for Restaurants- Increase The Outdoor Dining Experience of Patrons
Alfresco dining and outdoor seating facilities will enhance the popularity of restaurants and  its footfalls especially during fair weather season like summer. People love to enjoy the warm weather as they relish delicious food and lovely company. Printed patio umbrellas  make a high visibility billboard for your business while offering a cozy spot for the diners to enjoy their meal.
Make use of the ample  customization options to get your message out and ensure a truly personalized and private dining experience for your patrons. Patio umbrellas will also help restaurateurs to enhance the seating capacity without spending a fortune.
In the post pandemic scenario, the number of seated diners have dropped in the wake of the  social distancing norms in place. Patio umbrellas are a smart way to encourage your patrons to stay safe and dispersed without being overwhelming. Offering a comfortable outdoors dining space is the best way to serve your patrons better.
 Additional Seating 
Patio umbrellas offer a simple solution to enhance your outdoor seating capacity and enable the patrons to dine outdoors. It will allow you to serve more customers without breaking in-house seating rules. Expanded seating will also reduce the waiting time for your customers and make dining more enjoyable.
Enhance the Ambiance 
A vibrantly printed patio umbrella not just enhances the functionality but also accentuates the ambiance  of your establishment. Add custom artworks that complement your branding, interesting tagline or even your signature dishes to engage the audience and to drop helpful clues  that may help them to  get the most popular dishes of your restaurant.
Offered in a diverse palette  of colors, custom patio umbrellas can be matched with  the theme of your restaurant. The best part is that  trending models like full color patio umbrellas go well with every  décor theme  and lighting of  the spaces to ensure a dramatic appeal.
Stronger Branding 
Patio umbrellas imprinted with your message make a highly effective marketing for your restaurant. Get it imprinted with the name of your restaurant, your logo, your website and other details to  provide all the essential information to   get your patrons engaged. Custom patio umbrellas make a visually appealing promotional tool that will be visible to customers from afar.
Patio umbrellas are highly sought after for their charm and appeal. Apart from elevating a space, these logo umbrellas provide protection from elements without compromising on the feel and  fun of outdoor dining.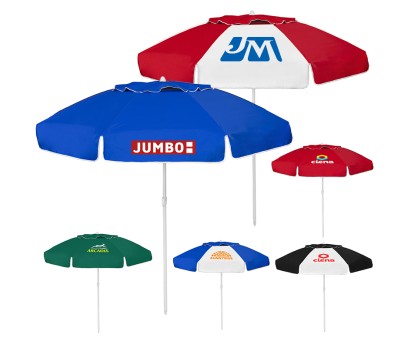 How do you plan to use custom umbrellas as your promotional tools this season? Share your thoughts with us on our instagram page.