Custom Umbrellas – Corporate Gifts That Give Back!
Umbrellas are available in virtually every size and colors and even in quirky shapes like square and octagonal among others .  From pint sized mini umbrellas to large models like golf umbrellas or patio umbrellas, you can easily find a model that aligns with your brand. Your logo and message will get maximum exposure on the large imprint area of umbrellas.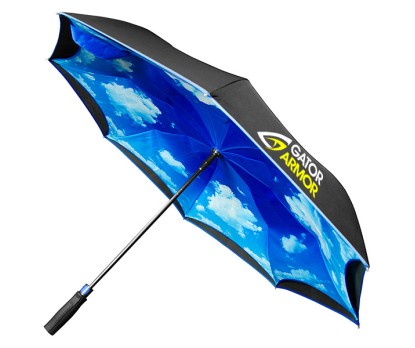 Umbrellas have under gone a revolution in recent time. Today, these have ceased to be just plain and boring black colored umbrellas any more.  Umbrellas double up as fashion accessories and style statements. Offered in various colors and designs and a host of interesting features custom umbrellas are great publicity materials for outdoor community events, store promotions, awareness events, golf weekends etc.
How Custom umbrellas make brand impressions
People identify and remember products with logos and by making it stand out on eye catchy promotional items like umbrellas you get repeat brand impressions. Studies show it takes atleast five to seven brand impressions for someone to remember your logo. So, the longer you put your message in front of your prospects the more likely you are to make a lasting impression. Plus – umbrellas make your first impression the best as well!
First impressions influence the buying decisions of customers and make your brand memorable. The first impressions that are made in the first few seconds will leave lasting memories about your brand.
Logos help people to identify a specific product or a business. So, highlighting your logo is the best way to get people remember your brand. The plus- custom umbrellas make brand impressions in a subtle and non intrusive way!  The more impressions you have  the more likely your audience will get reminded of your brand.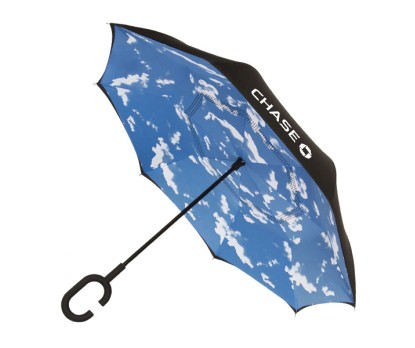 Imprint space
With most umbrellas ranging between 36 to 60 inches and more, custom umbrellas have one of the largest surfaces of any promotional products to work with. These are literally walking , talking billboards for your brand . These can be used as employee gifts, party favors and team spirit items and not just promotional items
Many workplaces do not have a community umbrella. Hand out an imprinted umbrella to local businesses that their employees will find useful on a bad weather day. Just imagine the exposure your brand will get every time they walk out of the office to their car or to the cafeteria outside.
You can place your imprints on a single panel, alternate panels or even on the whole umbrella to match your promotional need.  However make sure not to make it too bold as it could deter the recipients from using it more often. Ensure the aesthetic appeal of the umbrellas while customizing it. This is the key to make it more popular and always in use!
 How has been your experience of using custom umbrellas as promotional items? Share your thoughts.