Custom Umbrellas Make Useful Back To School Items Post Covid-19
Though using an umbrella may not help you to stay safe from Coronavirus, it can help maintain social distancing outdoors. When schools reopen though a bit late this academic year, maintaining social distancing and personal hygiene will be a great responsibility for the school authorities and teachers.
Custom umbrellas will make a great handout to remind the students to keep distance from the rest while they are in public places and school playgrounds. Anyone will automatically stand away from the others at a minimum one-meter distance while using an open umbrella. Thus umbrellas not just shields people from the summer sun or spring showers but will help to maintain a safe distance.
Social Distancing Fun activities for students
Students of elementary schools can be motivated to obey the social distancing rules through fun activities and arts and craft workshops. Ask the students to make one meter wide hats during the craft sessions. It will be a fun way to remind them of social distancing. Students can use cardboard, balloons or thermo cool to come up with some interesting patterns. The best entry gets the prize! It will motivate the students to do their part to keep up social distancing while participating in this fun event in class.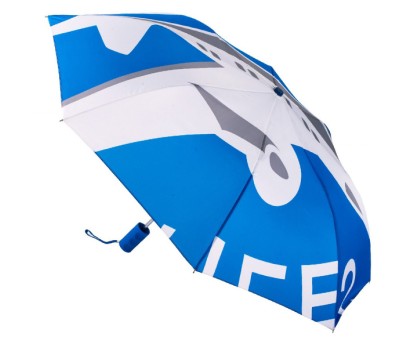 Interesting models
Custom umbrellas come in many sizes, colors and patterns. From mini umbrellas, light weight fiber glass models, inverted umbrellas and a lot more, umbrellas will literally leave you spoilt for choice.  Choose custom umbrellas in your school color, get it imprinted with school mascot and tagline to make it a great gift swag during back to school events. Kids will feel school proud every time they use these stylish branded umbrellas and will show it off in their friends circle.
Umbrellas also set off word of mouth publicity
Umbrellas create word of mouth publicity, which is considered as one of the earliest and the most effective forms of advertising even today. Parents often rely on referrals while choosing schools for their children. Promotional umbrellas can enhance your brand visibility and goodwill. Just imagine the exposure your logo will get as students and teachers use it in game days, team spirit rallies or outdoor picnics. It will take your message into a wider audience.
Your recipients will love to flaunt these unique umbrellas that are customized just for their schools. It makes an engaging talking topic in social circles and families and your school gets the much desired publicity.
Are you planning to use custom umbrellas as your back to school items? Share your thoughts.