Custom umbrellas for Brand Building and Seasonal Gifting
Let's be frank about it! Custom gifts are the marketing essential for every business to stay ahead in the competition of the corporate world and to foster the business relations with their audience. The best advantage of seasonal gifts is that it gets used almost immediately and will ensure a high level of brand exposure all through the season. Handing out custom umbrellas in summer or winter is a creative way to get your message out because umbrellas will be used regularly for months on end.
Offered in a range of shapes, sizes and colors, custom umbrellas can be aligned to the theme of the event. Make the most of the impressive canopy space to imprint your brand and message to showcase your brand exceptionally.
Umbrellas will stay in use longer not just as weather wear items but as props and style accessories, providing greater exposure for your company. Choose from a range of models like golf umbrellas, full color umbrellas, antiwind umbrellas, fashion umbrellas and a lot more that brings together style and functionality and complement the nature of your business. Practical gifts like umbrellas will make a tangible connection your brand and your audience and will generate a lot of interest among anyone who sees it.
If you are looking for something that everyone will love to use, put your bets on custom standard umbrellas. From solid color tones to alternate colored canopy and checkered patterns, there are quite a lot of models to consider. If you are looking for something quirky, look no further than promotional rebel umbrellas that will amuse your audience with its innovative inverted design with an eye catching contrasting color on underside. It will keep the users dry thus making it ideal to use while entering or leaving a car.
Executive Pinstripe Umbrellas will be a perfect choice for travelling executives and people on the move as these can be easily contained within bag, pockets or purses with ease. These umbrellas with Black with White Pinstripe will grab easy attention everywhere and your brand imprinted on it will never fail to impress!
Add a pop of neon colors and create a dazzling display with these Non Woven Executive Umbrellas With Bamboo Shaft. The non woven design will keep the umbrellas water resistant while the fiberglass ribs make it a perfect antiwind umbrella with immense durability and strength. The natural bamboo shaft and curved handle will give it a retro touch and an ecofriendly tag. It will make a great holiday season gift for sure.
Bubble Promotional Umbrellas w/ 6 Colors is a great gift item to add a fairy tale charm to your promotions. Your recipients will love the transparent and bubble like design that gives them the advantage of seeing the rain without getting drenched!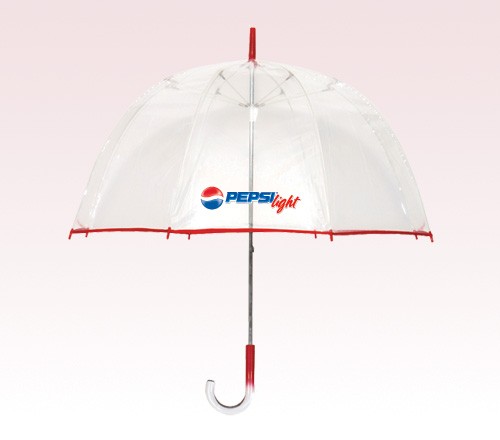 Need more? Browse our complete line of promotional umbrellas to choose a model that matches your needs and budget.