A Quick Guide On The Advantages Of Custom Umbrellas As Branding Tools
Promotional products have been used to increase brand awareness since a very long time and this trend is here to stay for sure. Everyone loves freebies and it makes a delightful way to leave a positive brand impression among your audience. So, if you have been looking for a custom gift that will generate better return on investment and help individuals remember your brand, look no further than custom umbrellas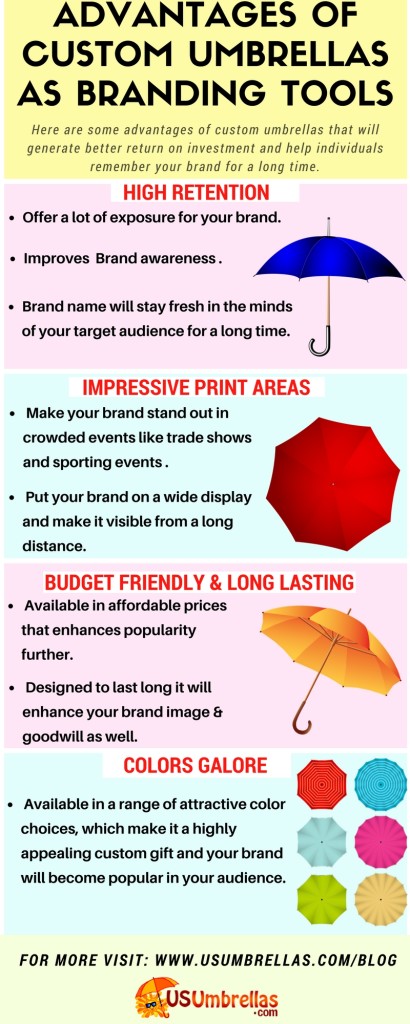 High retention: Umbrellas are highly useful and are well retained by the users. The most popular business gifts are those that are retained the most and this is what makes umbrellas a great choice. Apart from being items that are frequently used, promotional umbrellas offer a lot of exposure for your brand. Useful all year around as weather wear items , fashion accessories or props, umbrellas will get a lot of attention on golf greens, high street and various gatherings and events. By imprinting your brand on a product that is frequently used, your brand awareness will go up and your brand name will stay fresh in the minds of your target audience.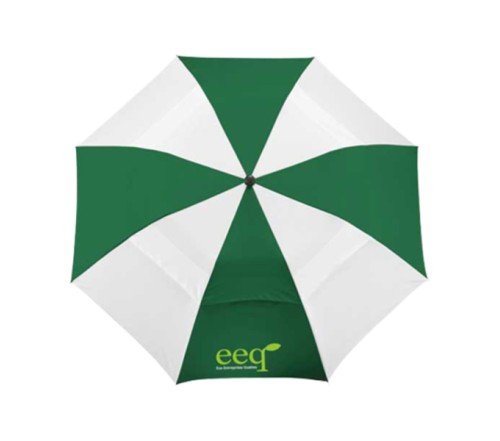 Impressive Print Areas: Custom umbrellas have a wide imprint area that will put your brand on a wide display and make it visible from a long distance. Let your brand stand out in crowded events like tradeshows and sporting events with these logo umbrellas that will make heads turn.
Budget friendly: Custom umbrellas are affordable, which makes it a perfect choice for budget marketers. Bulk orders carry the best discounts and deals, which enhances its popularity further.
Long lasting: Designed to last long, umbrella models like antiwind umbrellas that can resist high winds without being blown inside out will make a perfect choice to ensure a wide angle display for your brand all year round. Premium quality custom umbrellas will enhance your brand image and goodwill as well.
Easy to customize: Umbrellas are easy to customize with your brand and message to cater to the needs of your target audience. Imprint your brand, message or artwork to make it funny, quirky or classic.
Colors galore: Custom umbrellas available in a range of attractive color choices, which make it a highly appealing custom gift. The custom gift that you choose conveys your brand message and by personalizing it in an interesting and unique way, your brand will become popular in your audience.
Versatile: Umbrellas make versatile gifts that can be employed to promote all types of brands and message irrespective of your business niche. These are gender neutral and will suit all age groups.
Have you used custom umbrellas as promotional items? Share your thoughts at the comments section.