3 Reasons That Makes Custom Umbrellas Excellent Corporate Gifts
Now that the holiday season is on, it is time for most businesses to think about corporate gifts for their customers and employees. If you are looking for a popular and budget friendly corporate gift that will surely please everyone in your audience, settle for custom umbrellas. The gift that you give will have a big role in creating a good impression among your audience as most of your employees and patrons will equate the quality of the gift that they got with your corporate identity. For this specific reason it is recommended to stay away from gifts that are only of ornamental value or gifts that are gender specific.
Umbrellas are immensely popular
Umbrellas are everywhere; the good thing is that you don't have to worry about getting the accurate size of your recipients or find a gift that matches their unique color choice. Gifts that are functional and versatile will get used more often and have lesser risks of getting trashed. Offered in a range of price points, it is easy to find a model that matches your promotional budget as well. Umbrellas make popular choices as corporate gifts as it is highly practical and a daily use item that everyone needs. Apart from staying safe from adverse weather elements, umbrellas make great props and fashion accessories as well. Offered in a mind boggling range of sizes right from the pint sized mini umbrellas to the massive golf umbrellas and everything in between umbrellas can match every occasion.
Gender neutral gifts
Everyone needs umbrellas irrespective of their age or gender factors, which make it a perfect gender neutral item that will appease a wider audience. Unisex gifts like umbrellas are easy to shop for and distribute because bulk orders will get you the best deals while everyone in your audience will get a gift that they find useful. It makes a perfect win- win situation for both parties. Apart from being gender neutral, umbrellas make a perfect non-tech item, which can be used by everyone unlike tech gadgets, which need basic proficiency.
Umbrellas are easy to Customize
Umbrellas offer a wide canopy area for marketers to place their message, which will be seen from a long distance. Available in a range of brilliant colors, umbrellas grab easy attention and make excellent props for tradeshows, outdoor events and more. You can even make use of the underside of the canopy to place your logo should you need a subtle branding effect, which will encourage your audience to wear it without looking like a moving billboard.
Here are some of our best selling umbrellas that make great corporate gifts
Rebel Umbrellas: These quirky Inverted style umbrellas will tug the hearts of your recipients easily. They might not have seen anything like this before. The contrasting color on underside and a handy design where these umbrellas closes away from the user enhances its appeal.
Vented Typhoon Tamer Umbrellas: The name tells it all! These super strong antiwind umbrellas make a great choice for the chilly weather and high speed winds which will not leave it toppled. Put your brand on and see how your recipients will feel proud to wear it even in the most challenging weather conditions, thereby putting your brand on a proud display!
New York Subway Map Umbrellas: Anyone who is living in New York or planning to visit this fashionable city will find these umbrellas useful as they have a full subway map over their head that will guide them rightly. It is a fun way to get your message across and your employees will find it interesting as well.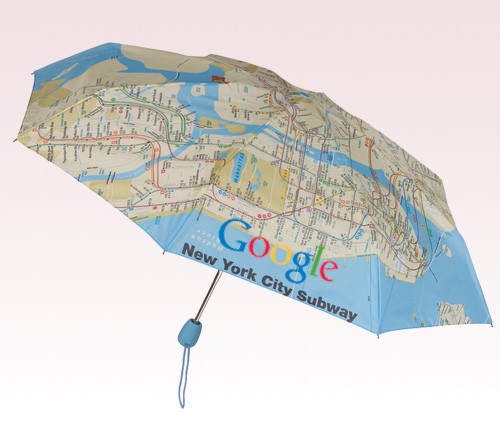 Need more? Browse our collection and choose a model that matches your budget and promotional needs. Happy shopping!