Custom Umbrellas Make Good Corporate Gift Ideas
Just think about the number of days your employees might have got stuck in office on a rainy day. So, it is a no brainer why custom umbrellas make a perfect logo item to consider as your corporate gift. These highly useful items will make a perfect gift so that your team can stay presentable and dry when going to the office or back home. Umbrellas come handy not just during the rain or sun but also as accessories and props and your recipients would love to show off a stylish umbrella that has been branded with your logo or message.
The massive canopies and the brilliant color options of umbrellas make it a perfect marketing tool for businesses to sneak in their brand into the daily lives of their recipients and to make them familiar with their brand. Logo imprinted umbrellas will enhance brand recognition while your employees avoid the bad weather elements. If you are planning to use custom umbrellas as corporate gifts, use medium sized models with a carrying case so your employees can easily carry it wherever they go.
Still thinking? Did you know that Mercedes Benz has been known to hand out custom umbrellas as gifts to their customers who purchase a vehicle? Interestingly they even sell their imprinted umbrellas in their online store, which further highlights the marketing potential of these logo items.
Here are a few popular models that you will find interesting as corporate gifts or store promotional items.
Rain or Shine Light Umbrellas: Offered in three attractive colors, these umbrellas feature 6 LED lights in the handle, 4 of which function as flashlight while 2 serves as emergency flashing. These custom umbrellas are great for employees and clients who are commuting at night.
37 inch Arc Folding Custom Logo Umbrellas with case: This 5-folding section umbrella comes with wrist strap and offered with deluxe zippered carrying case with matching trim. Imprint your brand, message or artwork on these to make it a high potential promotional gift all round the year.
Antiwind umbrellas: There is nothing bad as an umbrella that gets tossed and tattered in the wind and gets blown inside out. These antiwind umbrellas with reinforced ribs and handles feature vent technology that will make it a great choice for bad weather elements. While your recipients have a reliable umbrella over their heads your brand on it will enjoy a great display.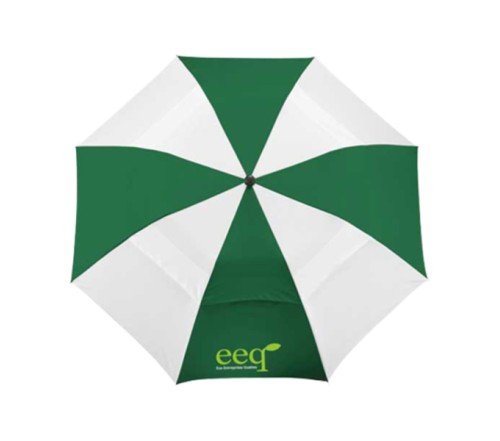 Fashion Umbrellas: Add a pop of color and flair to the functional items of umbrellas to make it more appealing with these fashion umbrellas. Your recipients will love to use it as fashion accessories and props and your brand will even make a great talking topic among your audience.
Looking for more models? Just browse our collection and choose a model that matches your promotional theme or give us a call for more tips and assistance.