October 4th Is National Golf Day- Rush Your Orders For Custom Golf Umbrellas
National Golf Day makes a great time for all the golf lovers to dust off the clubs and get ready to hit the greens once again. No matter whether you are a pro or a newbie, this day will make a perfect day to get out to the green and play a few holes. Golf Day heralds the golf season of the year and is thought to represent the first professional golf tournament that was held on this day way back in the year 1916. The day brings together over 4,300 professional members of the PGA who will play golf with the contributors, whose entry fees add up to the charity kitty.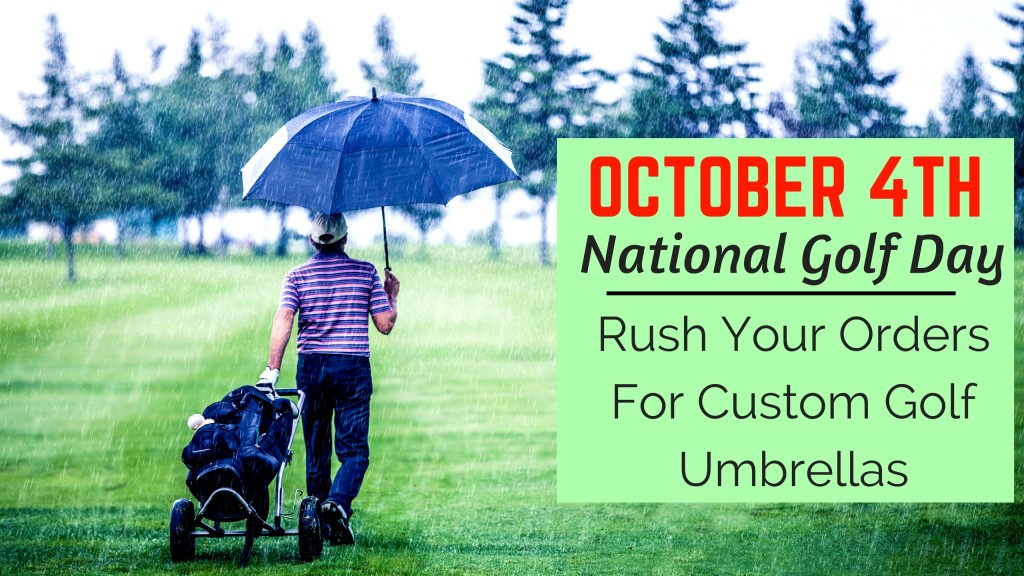 For marketers trying to promote golf clubs or golf greens can think of sponsoring events, announcing discount deals for regular players or handing out custom gifts to get their message out. There can't be a better custom gift than promotional golf umbrellas to celebrate this day. Hand out these attractive golf umbrellas imprinted with your brand and message for the regular members and see how these logo items will put your brand on wide display.
Here are some of the popular golf umbrella models that can be considered to promote your brand and to spread awareness about this day.
60 Inch Arc Custom Printed Golf Umbrellas: Golf umbrellas need not always be mighty and bold. Check out these cute 60 inch arc folding umbrellas that folds down to just 10.5" to make it fit within bags or purses. Your golf loving recipients will love these logo imprinted umbrellas that will shield them from rainstorms! These custom golf umbrellas will make a great corporate gift and promotional item alike. The attractive two color pattern will make these golf umbrellas eye catchy and interesting.
62 Inch Arc Promotional Hurricane Golf Umbrellas: Designed to last long and to face head on the inclement weather conditions and storms, these colorful umbrellas with matching accent color on shaft, ribs, piping, ferrule and handle will turn heads easily. The vented canopy and fiberglass wind resistant frame will help it to withstand the high wind conditions of the golf greens. Place your brand and message on the generous imprint space and enjoy the undivided attention of everyone around.
62 Inch Arc Eagle Fiberglass Golf Umbrellas: These multi colored umbrellas will paint the green in vibrant colors. The steel Frame and the Fabric Fiberglass Wind Resistant Frame will make these nylon golf umbrellas long lasting and a reliable choice for the golf grounds. Designed to bear the brunt of the outdoor elements with a wide grin, these long lasting umbrellas will put your brand on a wide display for sure.
54 inch Windproof Mid-Size Golf Umbrella: These mid size umbrellas have a windproof canopy and fiberglass ribs that will make it stand against strong wind. Offered in attractive color combinations these umbrellas are lightning resistant, rust proof and water proof. These mid-sized umbrellas will make a great daily use umbrella when you are not playing golf!
We have added a lot of interesting golf umbrellas just in time for the golf month. Make sure that you do not miss the best deals. Hurry!