Follow The Fashion Trend By Making These Popular Custom Umbrella Models Your Marketing Swag
Gone are the days when umbrellas used to be just weather wear items. These days, umbrellas make potential branding gifts, fashion accessories and even props! Choosing the right logo umbrellas will make your promotions more successful and impressive. Consider the needs of your recipients and age groups while choosing custom umbrellas for maximum impact.
Here are some of the popular models that can be considered for your forthcoming promotions.
Mini umbrellas
Mini umbrellas that typically fold down to 9 inches are easy to carry in a purse or bag when not in use. These pint sized umbrellas offered in a palette of colors and models will make a great daily use model for people on the move. Imprint your brand and message on these logo items and grab easy attention. Everyone will love to talk about these compact and trendy umbrellas that will keep them safe in rain and shine. These one person umbrellas will make a great choice for travel and your brand on these will get a wide angle display.
Stick Umbrella
Stick umbrellas have a classic charm about it. Stable and retro styled, these umbrellas will double up as walking stick for your recipients while they walk on ice or bumpy and uneven roads. As the stick umbrella has fewer moving parts than a compact umbrella, these ensure trouble free performance for a very long time. Simple, reliable and cost effective, stick umbrellas make a perfect promotional item for promoting fashion brands, banking services and more. It ensures a proper coverage even during heavy rain. On the flip side your recipients might find it difficult to get into the car or to carry it when not in use. Choose from various interesting models like EcoSmart Auto Open Stick Umbrellas and 48" Arc Stick Umbrellas among many others and put your brand on a proud parade.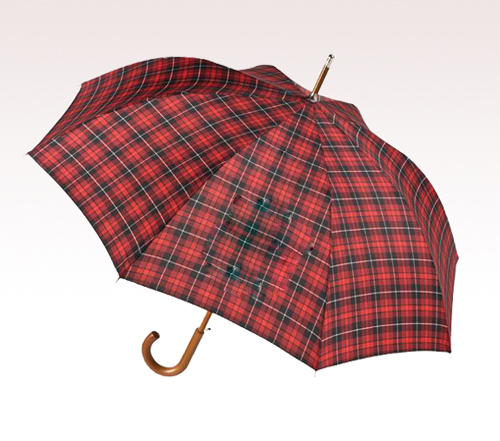 Golf Umbrella
These long shaft golf umbrellas that are designed for the golf bags will make a great golf day item for the players as these will keep the players safe from the unexpected storms and rain that could ruin the game. These wider canopy umbrellas that can hold two-persons will allow the caddy to hold the umbrella as the player gets ready for the shot. Designed to last long and reinforced with fiberglass shafts and vented canopies, these umbrellas are well suited for the high wind conditions of the golf greens.
Custom golf umbrellas will make a great item for promoting golf tournaments and sponsors who want their logo to get displayed on a budget will find custom golf umbrellas a perfect choice. Hotels and valet services can also use golf umbrellas to promote their brands because of their impressive size, attractive color choices and durability. Your brand and message imprinted on these will get a panoramic display.
Which of these custom umbrella models have you been using in your promotions? Share your branding experiences with us at the comments section.