Custom Umbrellas – The Great Outdoor Advertisement Staples That You Cannot Overlook
Promotional products that are cost effective and useful will go a long way in ensuring a hassle free marketing of any business. But when it comes to a popular custom gift that keeps giving all round the year, there can't be a better choice than promotional umbrellas.  Here are the three main features of custom umbrellas that make them a high value promotional item.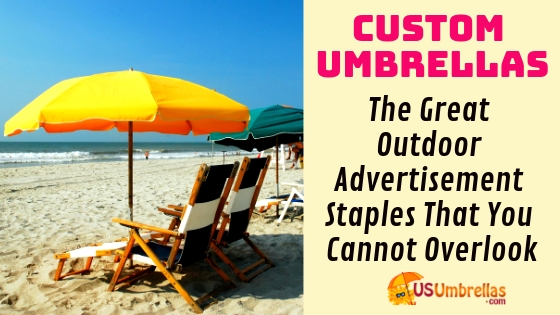 Functionality: Umbrellas are used often, several times a week to stay safe from weather elements and UV risks. In addition, umbrellas make excellent accessories to enhance the dressing style as well. Umbrellas are offered in a range of models that it is easy for you to choose an item that perfectly matches the needs of the audience. Umbrellas enjoy a cutting edge over other custom products because of its usability and gender neutral attributes.
Durability: Umbrellas are made to last and offer long life. Umbrellas are well retained and are used over and over again. The best thing is that umbrellas offer a very high level of brand exposure and double pull as a moving billboard for your brand. A colorful umbrella will easily make heads turn towards your brand and consistent exposure of your brand will enhance the brand recall of your target audience as well.
Massive imprint space: Probably the most amazing feature of custom umbrellas is its massive canopy that makes high value real estate for your message. Customize it with your tagline, logo or mascot to get across your message to your target audience. Every time your customers use these branded umbrellas, your message will grab the attention of everyone around.
Now that you have a clear overview of the branding power of custom umbrellas, it is time for you to join the league of successful marketers who have taken advantage of the promotional powers of umbrellas in their brand building.
Kick start your outdoor promotion with these imprinted umbrellas below
Golf Umbrellas
Since golf is a popular sport among Americans, handing out custom golf umbrellas can go a long way in spreading your name in the green. Customize it with your brand and message to ensure the undivided attention of everyone around. If you are planning a corporate golf weekend, make sure to include a few of these best selling golf umbrellas into the list and show your audience that you  are not just serious about your promotions but the game as well. Choose from a range of models including fiberglass golf umbrellas , windproof umbrellas, full color golf umbrellas and more.
Mini Umbrellas
Light, handy and small enough to fit into a handbag or pocket, mini umbrellas will make the best brand ambassadors for your business. Try it!
Fashion umbrellas
Styles and fashion trends change faster than you think. Hand out these fashion umbrellas that are as trendy as the apparels that your customers wear  to tug their hearts and to make your brand popular! We have a lot more! Browse our collection and choose a model that matches your needs.