Everything You Need To Know On Using Custom Umbrellas As Promotional Products
Advertisements play a strategic role in today's world as it helps the customers to weigh various options and to make the most appropriate choice. Branding campaigns ensure a cosmetic value and a fun element to the products and make it easy to cut through the marketing clutter. Every company spends huge amounts of money to reach the public and win new leads by coming up with novelty gifts and promotional ideas to grab the attention of their audience.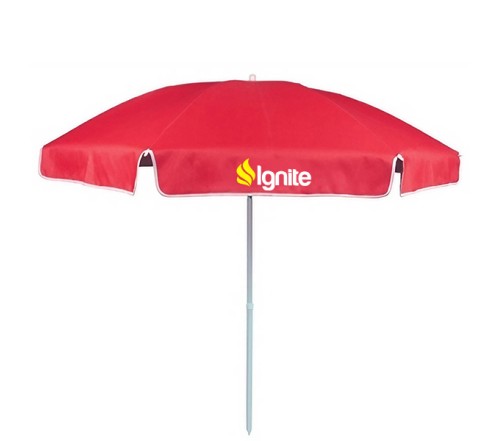 Umbrellas are originally designed as a weather wear item against adverse weather elements and are basically items of utility. From being fashion statements and royal insignia and religious symbols of the yore, umbrellas have evolved to become fashion accessories and even promotional items today. Marketers often find planning a successful campaign on a budget a tight rope walk. However, it is interesting to note that even ordinary items like custom umbrellas can be turned into a high value promotional item by imprinting tag-line, artwork and message.
Umbrellas of larger dimensions like patio umbrellas are used in garden restaurants to announce special deals, grab attention of the customers and provide shade from the sun. Umbrella canopy will make a high visibility promotional item for brands and businesses thanks to its impressive size and brilliant color choices, which will make it a stunning background for your message.
Innovation in design has transformed the umbrella canopy to many quirky shapes like square shaped models. Printed logo umbrellas make a visual treat in a downtown area and to grab easy attention of passers-by. Customized umbrellas will leave a lasting memory in the minds of the public and the product gets maximum publicity with minimum effort and investment.
In a market that is inundated with scores of brands vying for attention, companies wrack their brains to come up with interesting and engaging promotional strategies to impress the audience. From roping in  super models as brand ambassadors to organizing contests and fun games, marketers think of all possible promotional tactics. Advertisement is a challenging task as you may have only  a few seconds to grab the attention of the audience and convey the message.  Promotional umbrellas will scream your message to anyone who sees it thanks to its large size and brilliant color options. Ideal for promotions all round the year except winter, umbrellas make a great visual advertising. You won't miss the mark with such targeted advertising!
Today, more companies worldwide are using these simple yet effective promotional products to make their brand powerful and memorable. Custom umbrellas will make perfect advertising promotional items to promote and propagate their brand in the market because everyone needs umbrellas in their daily lives. Every time your recipients use these logo items, it will enhance your brand's visibility and reach. Custom umbrellas are well suited for targeted promotions. Reports show that promotional umbrellas are one of the most widely accepted custom gifts.
Easy to use and ideal for all age groups, custom umbrellas will embrace both functional and promotional strategies! These colorful and attractive umbrellas will make heads turn, drive up brand awareness and increase conversion. Custom umbrellas have become a popular promotional item not just among start- up companies and budget marketers but big organizations as well.
Have you used custom umbrellas as promotional items? Share your thoughts with us at the comments section below.