Promotional Umbrellas – Affordable Promotional Items For Targeted Promotions
Umbrellas may be ubiquitous items that not many people may think of using in their marketing campaigns. However, marketers looking to outperform their competitors effectively without breaking their promotional budget can think of custom umbrellas as promotional products to improve their customer engagement.
These time-tested promotional items will ensure an impressive residual effect for your promotional campaign and keep your brand well displayed for a long time. Massive and colorful, custom umbrellas will grab the attention of people easily and popularize your brand imprinted on these logo items. It will enhance the overall experience of the customers, enhance your brand reach and above all create new business opportunities. Custom umbrellas make a fun way of targeting and delighting customers.
Umbrellas have become one of the most popular promotional items in the business world thanks to its large canopy that doubles up as a high visibility billboard. Customized umbrellas can address a huge crowd of people at the same time and will ensure the much needed portability for your branding. Offered in various models and sizes, marketers can choose any size that matches their needs. Long lasting and well retained, promotional umbrellas will keep your brand on top of the minds of the recipients. By offering your clients custom umbrellas you are not just offering something they can use and hold on to for a long time, but make your brand part of their daily lives as well.
Here are some of the custom umbrella models that can be considered
Golf umbrellas: Build a buzz and generate quick interest in your brand promotion. These imposing umbrellas that will stand out even in a crowd will make your competitors see red.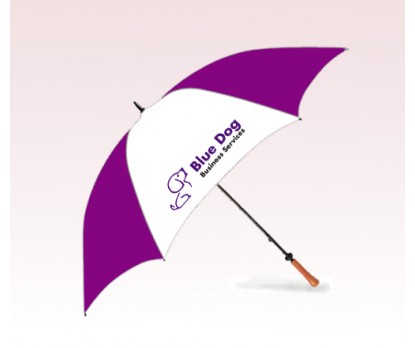 Tote umbrellas: Good things come in small sizes and these umbrellas that will fit easily in bags will make a great custom gift to consider. Every time your recipients carry these logo items for work or on the move, your brand will get a lot of attention.
Antiwind umbrellas: Designed to bear the high winds, these umbrellas will stand upright even in the worst weather. These sturdy  umbrellas that wont get blown inside out in the wind will make the recipients grow closer to your brand.
Kids umbrellas: Colorful and fun filled, these umbrellas will please even the most discerning kids in your customer list. Ideal to promote all types of kids brands and businesses, these umbrellas will make a great talking topic among everyone!
Browse our complete line of custom umbrellas and choose a model that matches your needs. Do share the snaps of your custom umbrellas at our facebook page and get featured.