How Wedding Umbrellas Double Pull As Photo Props On A Rainy Day
Winter wedding is surreally beautiful. The bride and groom in wedding day finery will look fabulous against the white snowy backdrop and the stoic silence around. There is nothing to spoil the mood of the wedding event except may be the occasional and unforeseen rain or blizzards. This is where wedding umbrellas come to the bigger screen. These not just keep the wedding party safe from the rain but also make adorable photoprops even on a clear day.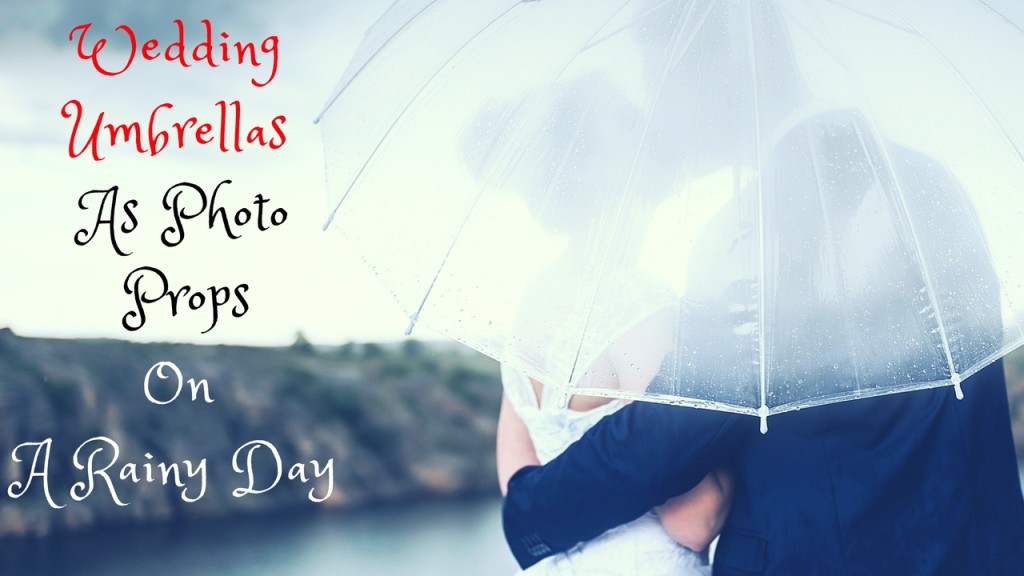 Rain is considered as a good omen in many cultures. So, there can't be any complaints. Add to it the big plus that brides can still get good photos even in rain or snow thanks to these transparent umbrellas that will only enhance the beauty of the wedding snaps.
Umbrellas make wonderful props and can even be used to throw light back down on the couple. Keep an umbrella stored under the seat of your car that works well for photos. Here's one model that you will love for sure. 54 inch Bell-shape White Wedding Umbrella that stand out for its bell shaped canopy, with curved shaped handle matched to trim, and extra sturdy central pole with fiberglass ribs. Imprint it with your initials and wedding quotes to give these umbrellas look divine both in real and in snaps!
Looking for something flashy to complement the fairy tale charm of your winter wedding? Look no further than this 46 inch Wedding Parasols Auto-Open Floral Ladies Ruffles Style which will grab the attention of everyone with its elaborate and elegant and elaborate floral ruffles, golden tips, frame and ferrule, deluxe tassel embellishment, opera style handle with ebony wood finish, and unique design. The best part is that it is available in red and black color apart from the customary white for those brides who may be planning to wear a colored wedding gown or a color themed wedding.
White 54 inch Arc Bubble Fashion Clear Canopy Umbrellas is another wedding umbrella that will look good in snaps and in real alike. Bride and groom still can share their first kiss and get it shot in frames even when it is raining- thanks to its transparent design!
Now that you have a few fabulous custom wedding umbrellas in hand that will turn a cold rainy day into something breathtakingly beautiful, we are sharing a few more well kept secrets for the brides..Shhhh

A few tips to make a rainy day into something spectacular on your wedding
Back-Light The Rain Drops
Backlight the raindrops to make it visible in the snaps. As the light passes these little water droplets it will stand out clear and bright.
Do not miss the Reflections in The Puddles
Turn the puddles to your advantage by finding interesting reflections, which will give a dramatic charm to your wedding snaps.
Make use of the colors enhanced by rain
Everything looks so fresh and colorful in the rain. The green pine trees look a tinge greener while the grey sky looks silvery and even the wet driveway will look fresh and colorful. Make use of it during the snapshoot session.
Last not the least; tell the story of your wedding in rain by including photos in rains that your kids will love talking about for a very long time!
So, if you expect a rainy wedding day, make sure to place your orders for these custom wedding umbrellas to turn the tide into your favor. See how the whole world goes green with envy when they see you in these breathtakingly beautiful wedding umbrellas with clear canopy! Happy shopping!