What makes Kid's umbrellas cute promotional ideas?
Kids love colorful and quirky shaped umbrellas not just for the outdoors but as eye catching accessories and fun items. Kids make excellent brand ambassadors too as they will love to show off these logo items to everyone in their friends circles and family. Umbrellas make delightful gifts for children. Not only children, everyone loves this gift. There is always a tinge of excitement in receiving a gift. Tap this attractive potential of gifting these custom kids umbrellas to promote your business too. Invest on promotional umbrellas to promote your brand name and logo.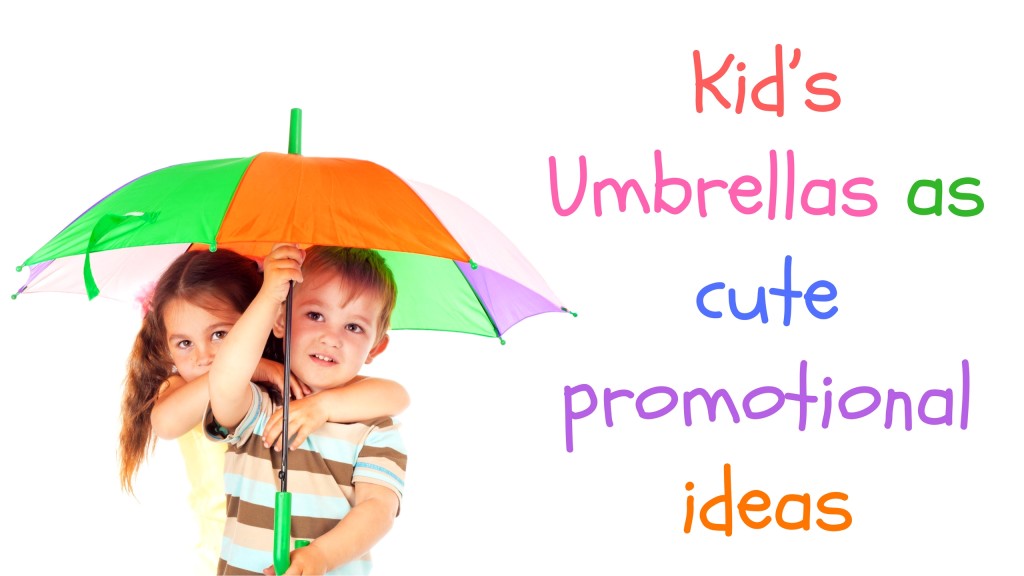 How kids spread your brand name?
Children are easily influenced and inspired by gift items and once they have their hearts fixed on an item, they will easily coax their parents to buy that item. By winning the hearts of kids, marketers can reach easily to the whole family. So when you gift the kids with promotional kids umbrella imprinted with your brand name it will surely catch the attention of adults too and next time they will surely know where to find you.
Big, animated characters in attractive colors are a huge hit among children. This could encourage them to take it everywhere they go, which means that your brand name will be exposed to more customers outside. A major advantage of the promotion through children is that they greatly influence their parents in selecting a specific brand. Once your brand name gets imprinted in their mind, they will definitely force their parents to buy the same products. Apart from that, they are the adult consumers of the future. A brand promotion through kids will retain brand credibility as they will grow up into loyal patrons of your brand.
Studies show that kids can easily influence the buying decision in a family. So by winning the attention of children, marketers can step into a wider audience. Custom kids' umbrellas are available in a variety of size and shape. For instance, the cow shaped umbrella, bear shaped umbrella, penguin shaped umbrella etc are cool gifting ideas for kids.
What makes promotional kid's umbrella unique?
Promotional kids' umbrellas are big in size. It offers more than enough space to imprint your brand logo and name on it. These umbrellas always come in attractive 3D designs too. So your brand logo and name will be printed on an attractive platform. No one can ever help perceiving such an imprint on an eye-catching item. The power of imprint on a daily using item is unimaginable. It remains as a constant reminder of your brand name and business
Promotional umbrellas are more than just umbrellas to keep your customers safe from sun and rain. It is a perfect gift for any occasion. Why not give it a try to handover personalized kids umbrellas for your little patrons? This will definitely delight the children as well as their parents. A gifted promotional kid's umbrella will definitely make a positive thought in the mind of those who use as well as see it.
Kids' umbrellas make great gift items to promote tradeshows, back to school promotions, family events, holiday season fairs and more. Long lasting and functional, custom umbrellas will make your brand part of the fun time. Personalize these with fun quotes, images and more and see how your brand will become the talk of the town!