Make Statement with Reflective Umbrella
Reflective umbrellas are a rage these days because of the additional safety features of reflective trims. If you have been looking for a unique  yet functional umbrella for clients, look no further than these custom umbrellas.
Reflective umbrella will enhance the visibility of the users in low light conditions on the road and will optimize your promotions. Customize it by adding your logo, artwork and message to make it unique and one of its type.
Reflective strip will enhance the value of the product and make it more useful for all types of users.  Make your clients and customers feel safe and reassured while out and about by handing out these safety umbrellas. Your customers will remember your brand every time they use these custom umbrellas.  The best part is that these umbrellas will make a great talking topic  among their friends, which means your message will reach a bigger audience.
Why We Like This Style
Sporty and casual, reflective umbrellas are ideal for all types of branding purposes.  Marketers can customize umbrellas using their message and artwork. The reflective element adds an exciting and interesting twist to an ordinary umbrella. But most importantly, when your recipients carry these umbrellas, it gives your brand invaluable exposure.
Reflective trim will improve road visibility at night and makes it a notch higher in appearance and functionality. Long lasting and stylish, these umbrellas will set a great background for your message.
Benefits
Innovative
These umbrellas are innovative and trendy handouts that enjoy a warm welcome in today's market.
Engaging
People in general believe in the concept of reciprocity.  The gesture of handing out these value added gifts will urge your recipients to return the favor to you  by purchasing products from you. And that is how brands benefit from offering freebie merchandise.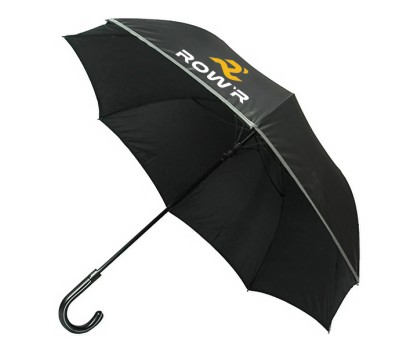 Saves Resources
Umbrellas are handouts with a high perceived value that will last long. Thus these logo items will make consistent impressions at one time investment. Popular giveaways like umbrellas are way cheaper than conventional advertisements like billboards or print ads.  In addition, umbrellas provide an all year round promotion at one time investment.
Enhances Brand Loyalty
Brands don't just offer free merchandise to attract new shoppers but also foster loyalty among existing customers. Every time you handout premium quality handouts like umbrellas, you can gain the trust of your customers in your brand.
Interested in reflective umbrellas? Reach out to our team to get started.