Top Tips To Consider When Buying Custom Umbrellas
When it comes to  choosing promotional umbrellas, there are ample  choices out there. Here are some tips that will help you finalize the best models while staying within your budget.
Size matters
 If your clients love a long walk or golf, a big golf umbrella is a must. The lighting resistant features coupled with the massive canopy and the built-in windproof technology will make it a perfect choice. However, if you are looking for a travel size, light weight umbrella, telescopic umbrella will be a better option. Choose from a palette of colors to match your corporate colors.
Colors
Color is another big consideration while choosing umbrellas. Why settle for the basic black umbrella when you have the most fashionable options in bright colors, prints and even elaborate handles. Umbrellas can be a great talking point and it's easy to have a bit of fun for your audience when they have some great looking umbrellas on hand. Whether on the beach, at the tailgate parties or the golf greens, your message imprinted on these will get a lot of attention and appreciation.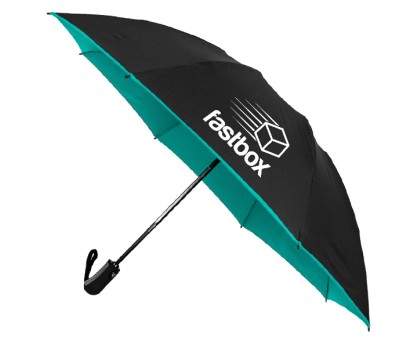 Budget
Then there's budget to think about. Umbrellas may not be the cheapest handouts around. Make sure to invest in a decent umbrella model that will not get toppled in high winds leaving your clients in dire streets as they walk down the street. The custom umbrellas that you hand out is an extension of your brand identity. So, make sure to choose premium quality models that will stand the test of time.
Long retention
Umbrellas are the most retained handouts in the promotional world with an average retention of 14 months or more. So, you are putting your dollars in promotional swag with assured ROI. Think of the multiple impressions that umbrellas make during its shelf life and how it pays off in the long run.
Trending models
Take a look at some of the trending models and innovative designs that will easily impress your audience. From inverted umbrellas that will keep the wet part of the umbrella away from the users to hand free umbrellas and clear umbrellas, there are a lot of interesting models to consider.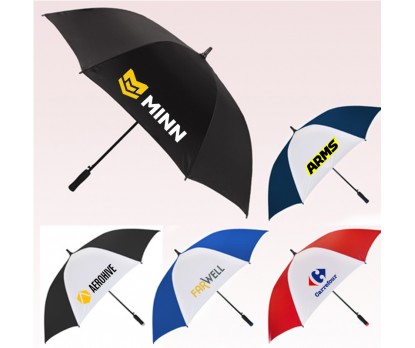 Size
Probably not many custom giveaways offer as many diverse sizes as promotional umbrellas. From pint sized mini umbrellas to large golf umbrellas and beach umbrellas, there are a lot of options to consider to match the needs of your target audience.
Now that you have some easy tips on hand, choosing your promotional umbrellas will be a breeze.