How Printed Umbrellas Make Special Gifts
Not all gifts are alike. If you are looking for something exceptional in promotional giveaways for your high value clients, look no further than custom umbrellas.
Perfect for home, office or on the go, umbrellas are available in a wide range of sizes. Whether it is the massive golf umbrellas or small telescopic umbrellas that will easily fit your bag, you will find it all in our collection. Functional and trendy alike,  custom umbrellas are made of sturdy materials  to  withstand the elements of weather properly.  Ideal for the  streets, beach and open air markets, umbrellas play a key role in optimizing the outdoor space  and putting your brand on a grand display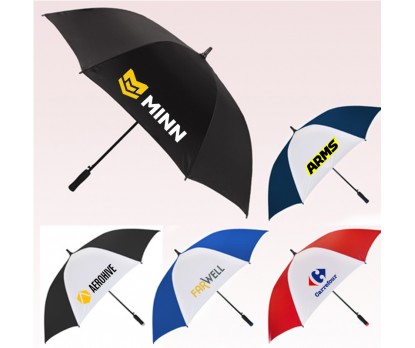 Customization is crucial
Umbrellas earn a few brownie points extra for their massive imprint space. You can imprint your logo, artwork, taglines and something more to impress your audience and get your message across. In order to get the best custom-designed umbrellas, it's advisable to think of innovative message and designs that will make heads turn and pique interest among the audience. Interesting pictures can also be printed in full color to grab easy attention during outdoor campaign. 
Long lasting
Umbrellas have the highest retention of over 13 month or more among custom giveaways. The impressive durability will make consistent impressions at one time investment. A colorful umbrella is hard to resist. Your message imprinted on it will stand out front and center among the audience creating curiosity in their minds.
Something special for every budget
One of the fundamentals of a successful marketing campaign is to stick to the budget on hand. Custom umbrellas are available in various price rates and hence can be matched with any budget. If you own a business that can utilize branded umbrellas as an advertising strategy, then ordering custom umbrellas can be a smart move to build your brand reputation.
Enhance your outdoor brand visibility
Printed umbrellas are popular outdoor swag for hotels and outdoor catering businesses to spread the word and make new leads. Available in various sizes and colors, umbrellas can be used in patio, table tops, on the beach and so on and so forth. Resorts can use custom umbrellas as handouts for their guests to get the much desired word of mouth publicity
As Corporate Gifts
If you are looking for an elegant and effective corporate gift, nothing can match the charm of custom umbrellas. The  imprint space on the canopy can be used to fit a wide range of advertising content making them useful as a promotional medium for corporates. All you need to do is select the type of umbrella that you'd like to personalize. Come up with an interesting artwork And Voila you have one of the best handouts in town!