Printed Beach Umbrellas- Outdoor publicity at its best!
Nothing says summer like beach umbrellas. Offered in a palette of brilliant colors and patterns, these wide canopy parasols will add a fairy tale charm to the sandy shores.  While the users have a shaded retreat during beach holidays and parties, for marketers these umbrellas are walking talking billboards that will take their message far and wide.
The best part is that beach umbrellas are not only for the beach; people love to use it during camping, angling holidays, picnics and golf days. So, imagine the exposure your brand will get on these popular items. Beach umbrellas have an infectious charm about and can light up even a low key affair.
Hugely popular
Hugely popular among families, couples and kids, custom beach umbrellas have a warm and romantic feel about it. Everyone will love to cozy up under the soothing shelter of these colorful umbrellas that make their holiday snaps dramatically colorful and out of the world too. While you have a high visibility advertising space on these umbrellas the recipients will have a great spot to enjoy the sea, read a book or simply unwind. Beach umbrellas are available in various sizes and models that can be set up the way you want.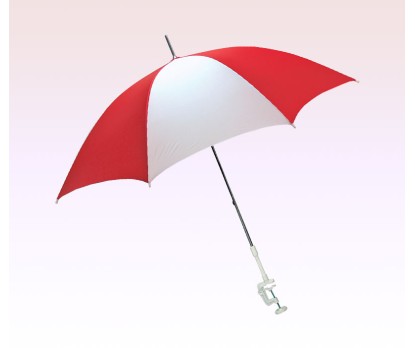 Choices  galore
Offered in a range of solid colors and interesting patterns beach umbrellas make a must-have summer staple for everyone. It will protect the users from UV rays without compromising on the thrills and spills of the beach holiday.  Choose from various handy models like Clamp on Chair Umbrellas or Umbrella with High Stand Cooler and Speakers that offer much more than an ordinary beach umbrella.
Beach Umbrellas never look out of place anywhere
Beach umbrellas can be used to promote all businesses and not necessarily those located near the beach or lake. These versatile handouts will match every promotional theme and help promote your business and increase your sales. The long retention of beach umbrellas offer assured ROI for advertisers. As your recipients use it over and over again during their outdoor holidays in different locations, your brand will clock miles and reach a wider audience away from your locality. Not just in sun, people may find these massive umbrellas handy in the event of a sudden shower or slight snow fall. So, in a way it makes a four season promotional item that will continue to make impressions for your brand for a long time.
Browse our complete line of umbrellas to choose the most trending models that will leave the beach lovers in awe!