3 Smart Ways Of Using Oversized Umbrellas For Brand Promotions
Summer is the best time for marketers to plan outdoor promotions and interesting street marketing spell. Market umbrellas have been in use among shop keepers since a very long time and its legacy can be traced to many ancient civilizations. These commercial custom umbrellas make a perfect addition to any outdoor promotional event. Be it alfresco dining, pool parties, outdoor leisure activities or more, these umbrellas can be used for dime a dozen promotional events.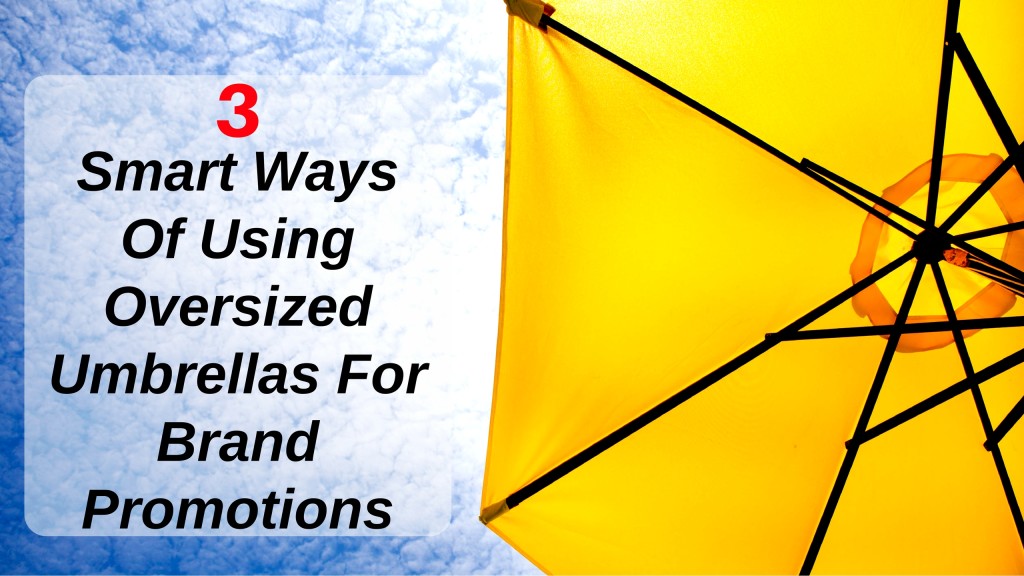 If you are looking for some innovative methods to use oversized umbrellas, here are three top ways to include it in your marketing swag.
Café and Restaurant Umbrellas
Alfresco dining under the soft warm summer sun is bliss! Make your customers feel extra special this summer with these custom café umbrellas that will make a delightful way to enjoy a meal. Apart from keeping the weather elements at bay, these logo umbrellas will enhance the appearance of your café and will bring in a quintessential summer charm. Whether just stopping by for a coffee or a grub, your customers will surely love the experience. Do not be surprised if they come back for more. Encourage them to share their pictures on your Facebook page to enhance the engagement. Customize these umbrellas with your brand and message to turn them into eyecatching billboards that are hard to miss!
Schools and colleges Outdoor Umbrellas
Schools and colleges can add a classic charm to their play ground settings or patio with these custom outdoor umbrellas, which will protect the kids from UV risks and will make their outdoor fun extra special. Imprint the massive canopy of these umbrellas with your brand and message to offer the students a great place to eat, study or play. Your brand will get easy attention while your brand loyalty goes up manifold.
Beach Hotel Outdoor Umbrellas
Summer is the peak promotional season for beach resorts and hotels. Be it taking a refreshing dip in the pool or basking in the sun at the deck chair, these hotel outdoor umbrellas are a great way for everyone to relax. These wide canopy commercial umbrellas will keep your guests cool and protected without robbing off the outdoor fun. The best part is that you can even use in roof top areas to ensure a panoramic view of the beach for your patrons. However make sure to choose umbrellas that are wind proof and can resist high speed winds. Your customers will remember your brand and these summer holiday snaps for a very long time.
If you have any other innovative ways to use custom outdoor umbrellas, do post it at the comments section. We would love to hear from you.