6 Reasons Why Logo Umbrellas Are Great Investments
Wish to set apart your promotions and make heads turn?  Look no further than custom umbrellas. Available in various colors and patterns, logo umbrellas will put your brand on a wide display especially in the summer outdoors.
Custom umbrellas make the top choice in marketing gifts thanks to the high perceived value. Though the initial investment is a bit high, the long retention and consistent impressions will make logo umbrellas handouts with assured ROI.
Thinking why promotional umbrellas  are the top choice for marketing.
Long Lasting
Umbrellas are everywhere ; be it on the beach,  outdoor tradeshows  or the golf greens, these premium quality giveaways  will make a great way to showcase your brand in a unique way. Your brand on these handouts will get a lot of attention among not just your recipients but anyone who happens to see it. The generous imprint space of umbrellas will easily keep your brand on top of their minds all day.
Limitless models
Logo umbrellas are available in different sizes, bespoke shapes, and colors.  Needless to say, logo umbrellas make a fresh way to connect with customers and clients to make your brand popular.
Highly practical
What makes a promotional gift popular? It is practicality! Unlike other marketing gifts, useful gifts like umbrellas will not end up in land fills. Reports show, that most consumers prefer useful handouts to novelty items.
Dynamic
Umbrellas are useful in a wide range of  ways. Whether you choose to hand out custom umbrellas as gifts with purchase or on pack offer, logo umbrellas will  definitely drive impulse purchases as they serve as popular rewards for customers.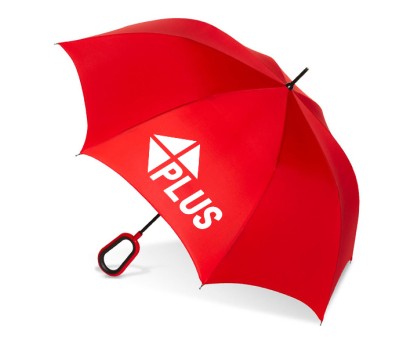 Boost Sales
High quality umbrellas will make your brand stand out in any event and increase your brand's perceived value and sales alike. Inspire your audience to purchase your products by offering a free gift to your customers that they can use everyday, These trendy umbrellas will even make a great conversation topic among their friends.
Enhance customer loyalty
In addition, popular giveaways like umbrellas are the best way, to gain customer trust and loyalty.  Moreover, your customers tend to make repeat purchases, when they know they are being rewarded. Apart from having attractive and fun designs, umbrellas are highly useful; and can  sustain the interest of customers long enough, until their marketing goal is achieved. The more they are used, the more will be your brand exposure; and will thus reinforce your brand recognition on a daily basis.
Branded umbrellas are a fantastic way, to spread your message in a straightforward and unique manner. The best part is that, as umbrellas are practical and useful, hence they can easily make your brand an integral part of your customer's life.
How do you plan to use custom umbrellas as your marketing tools? Share your ideas with us on or facebook page.