Logo Umbrellas -Great Value Giveaways
Looking for a high visibility signage that is hard to miss? Umbrellas will be a great choice. Portable , popular and with a high perceived value, custom umbrellas will make a successful branding tool to grab the public's eye and  shout a message to your audience.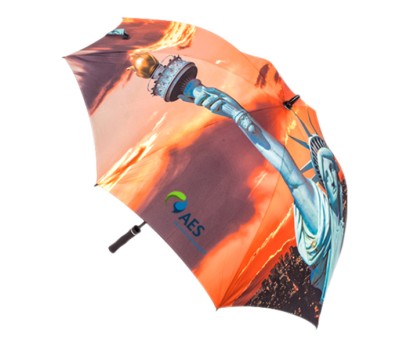 Umbrellas offer a massive imprint space and hence your message on it will be easy to read even from distance. If a company really wants to grab their audiences' attention, umbrellas will surely do the trick. Ideal for retail advertisements, public announcements or even awareness campaigns , custom umbrellas can be used in countless ways to enhance your branding potential.
Umbrellas even make great wedding favors and personal gifts thanks to its high utility and fashionable models on offer.  
Versatility
The bonus of umbrellas is their versatility. Available in a wide range of models and sizes, umbrellas offer something special for everyone. Marketers can get as creative as they want and customize it meet their promotional goals. In addition, custom umbrellas make excellent handouts for all types of business verticals and industries. After all, everyone needs umbrella to stay safe from elements and to increase the outdoor fashion.  So, handing out an umbrella printed with your brand and message is the best way for marketers to get the audience engaged with their brand.
High perceived Value
When compared to other forms of advertising, umbrellas have a high perceived value and an impressive high return on your investment. Unlike conventional ads like print and press that have a very short shelf life and a very low chance for the audience to see and remember the message. However as everyone is out and about, custom umbrellas will be instantly visible to the naked eye!
Umbrellas will thus make an effective way to bring more attention to your business during product launch or grand opening.
Variety
Most individuals think of  umbrellas as basic functional items. Actually, there are several types of umbrellas these days including inverted umbrellas,  full color umbrellas, fashion umbrellas and more. So, you can literally choose a model that will match the needs of the audience. This will give you more options for marketers to match the umbrella model with the needs of their target audience.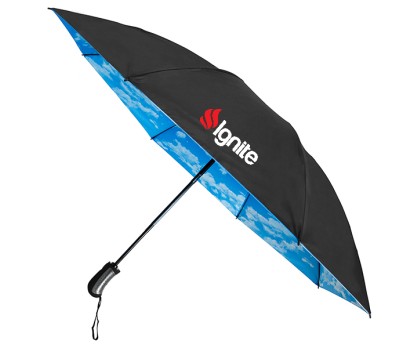 For instance, if you are  catering to the urban  crowd, portable models like mini umbrellas will make a perfect choice. On the other hand if you have a family audience to reach out to, golf umbrellas or hands free umbrellas will be a better choice.
Interested to make logo umbrellas your swag? Explore our complete line of custom umbrellas to choose a model that will meet the needs of your audience. Should you need assistance, we are only a call away.