Corporate Party ideas and Gifts to celebrate the Holiday Cheer
It is time to party! End of the year, the big fat holiday season and all the travel plans on the anvil, the time is just right for employers or business owners to plan a corporate party. Make your team feel well appreciated for all the support and contributions they have put in all through the year by throwing a corporate party well planned and that is worth remembering.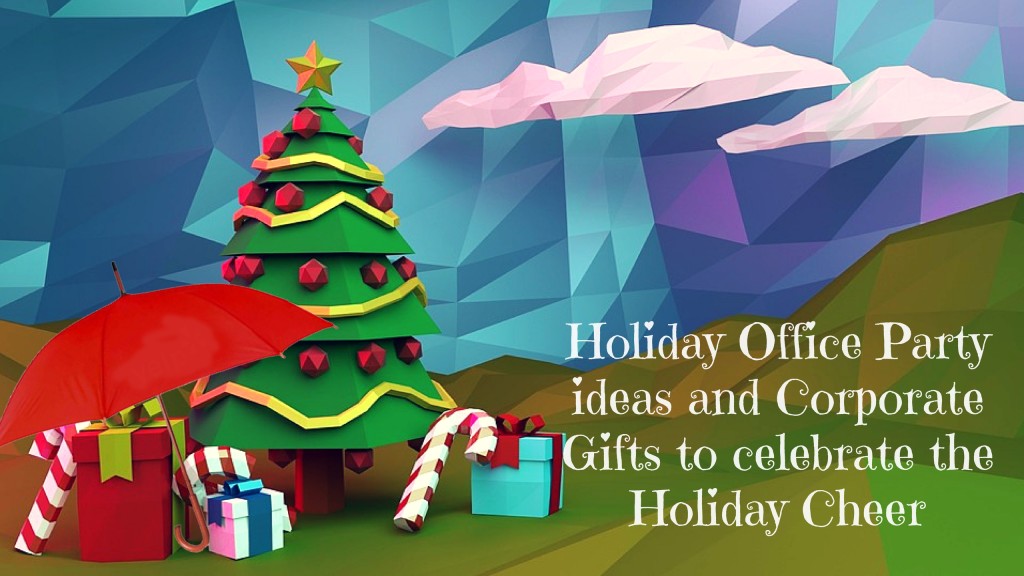 A party that everyone would love to talk about need not be bank breaking. You can plan a fun event that everyone can enjoy on a budget. A bit of planning is all it takes to make the holidays special and memorable for your employees. We have some great party planning tips and corporate gift ideas up our sleeves that you will find interesting to spread the holiday cheer in office.
Choose a party theme
First things first! Having a theme in place will make the rest of party planning a lot easier. Choose a theme that complements your corporate culture. Be it retro or contemporary, fun or classy, there are a lot of themes to consider. You can even pack a surprise factor to the party theme by coming up with something quirky like an ugly sweater party for instance. Loads of fun and laughter, your corporate party will surely be something that your team will be talking about for a very long time.
Plan a menu
Food is probably going to be the centerpiece of any party, so make sure you set the mood right with festive food. Keep your budget in mind and choose a catering option that will satisfy the diverse tastes of your team.
Fun is the name of the game
A holiday party should not end up as plain and boring. Plan some games, interactive sessions and fun activities to make sure everyone has fun. Photo booths, icebreaker sessions, games or even slide shows that highlight the major milestones of the corporate year can all be good options to consider.
Choose the best Corporate Gifts
The party may end but the memories linger on for a very long time through the logo imprinted gift items that you choose. Hand out gifts to employees to make them feel well appreciated and successful. Choose corporate gifts that fit your corporate culture and that your employees will find useful and use regularly.
Custom umbrellas have always been a top selling corporate party gift simply because it is gender neutral, highly functional and come handy all round the year unlike many other custom gifts that are season specific or age or gender specific. So, place your bulk orders for some of the most trending umbrella models this season and make sure that your brand will remain part of their holiday season celebrations.
Some of the suggestions to help you get started.
Fashion umbrellas: The evergreen style accessories that are equally functional, these custom umbrellas will never let you down as corporate gifts
Antiwind umbrellas: Great for the stormy fall weather; these work horses among umbrellas ensure great value for money.
Folding umbrellas: Compact and handy, if functionality is your key in finding the most appropriate gift idea, then this could well be the best choice.
Looking for more? Just explore our collection of umbrellas of all possible styles and hues and choose a model that suits your needs. It is as simple as 1-2-3! By the way, which of these is going to feature in your corporate gift list? Do tell us your corporate planning stories and share the snaps of your team under these brightly colored umbrellas that are uniquely customized for your brand

Happy holidays