Reasons Why Logo Umbrellas Rule the Business world
You're already on the right track if you are investing in custom giveaways in your marketing strategy. It is the best way to get your brand in the hands of your customers and enhance  your business exposure. Umbrellas are hard to overlook . People outdoors will easily notice your brand on it and will become familiar with your business in the long run.
Choose from a  wide selection of models of custom umbrellas to ensure  subtle reminder of who you are and what you do! Everyone needs umbrellas to stay safe from elements and hence putting your brand on this daily staple is the best way for your logo to be seen. They work as great  referral gifts and promotional giveaways that your customers use for a long time.
Umbrella printing is a great way to get your name out there. An essential part of any outdoor event, logo umbrellas make a great giveaway to promote your business or brand. We offer custom umbrellas in various models with multiple imprint options so you can choose what works best for you!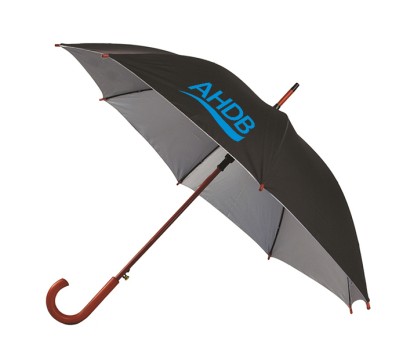 Custom umbrellas will get your brand noticed
Likewise, custom umbrellas will easily make your brand visible to make a statement. They are ideal as promotional giveaways, branding tools, sports day swag and corporate gifts. If you wish to stand out from the crowd , then look no further than these amazing marketing tools that features your logo or design on the canopy!
High visibility
A promotional umbrella will not just help you spread the word but will also promote your business, product or even yourself! Custom umbrellas are perfect for events like weddings and corporate events where you want to make sure that everyone knows who you are and what you do. Further, you can use these umbrellas at any time of the year, so that people will remember it for years even after the event!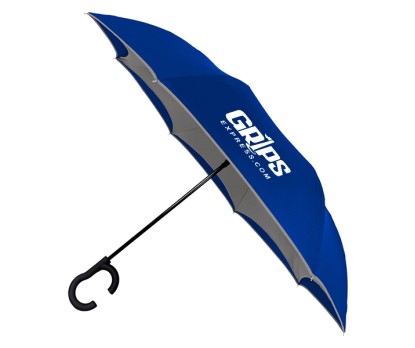 Choices galore
Let's be frank about it. Custom umbrellas are indeed a great way to promote your brand. You can add your logo, company name and contact details on the canopy,  umbrella  handle, case or the whole umbrella  to engage customers and make it easy to find you when they need your services. From classic models like standard umbrellas and mini umbrellas to unusual umbrellas like inverted umbrellas and hands free umbrellas you have something special for everyone.
If you've got a popular business or product that you want to promote, an umbrella could surely be a great way to get your name out there. Moreover, they come in all shapes and sizes. Best of all, these everyday accessories are great to reach out to family audience groups thereby giving your branding a multifold increase.
You can't go wrong with custom umbrellas
Logo umbrellas are fantastic giveaways for impressing clients or telling your workers how much you value them. A well customized umbrella will serve as moving billboard for your business, wherever your clients go. It is undoubtedly one of the most efficient ways to get your name out there. Did you know that umbrellas have the highest retention of over 14 months among promotional giveaways? Thus your brand will make loads of valuable impressions at one time  investment.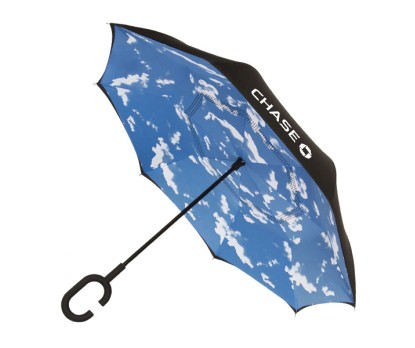 We understand how vital it is to match the appearance of your business to your promotional umbrellas. This is why we provide so many variations. Our classic wooden handle umbrellas can be a great choice for your business associates. These umbrellas complement your company's colors! Or, if you're looking for something casual, perhaps a mini umbrella will be a great choice.
If you're having trouble deciding, explore our complete line of custom umbrellas to find your perfect match. Still unsure about what style would be best suited for your business? Feel free to contact us to get started.