How to Build Your Brand On a Budget with Logo Umbrellas
If you think custom umbrellas may not be a good choice to market your business on a budget, you could be in for a surprise. The main purpose of any business is to make a profit. The best way to do it is to attract customers, and generate revenue  by  promoting your business. However, often running a marketing campaign may not be easy . This is what makes popular and high value promotional items like umbrellas a great choice.
Why choose logo Umbrellas?
Custom umbrellas can create brand awareness, and build your market base with ease thanks to its high visibility. You can make use of the generous imprint space to place your logo and message. Best of all, umbrellas have a very long lifespan; meaning that your potential customers will not discard them in the near future.
The changing weather pattern in the world has made umbrellas highly relevant throughout the year. Your recipients will find branded umbrellas useful, to protect themselves from the rain and sun, while they double up as your best brand advocates. Umbrellas even make walking billboards that will promote your brand throughout the year at one time investment.
Limitless options
Another benefit of using custom umbrellas is that they are available in a wide range of colors and styles. Choose from various models like golf umbrellas, inverted umbrellas, mini umbrellas and more.Make the best use of the generous imprint space of umbrellas, to highlight your brand image. The design that you choose will indeed have a great say on your branding outcome.
Corporate companies can choose umbrellas in solid classic colors; whereas for a fun themed event, brightly printed umbrellas will make a better choice. Choose colors that complement your corporate colors to make it more interesting.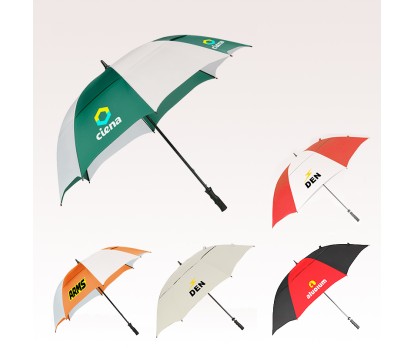 Umbrellas make incredible impressions
Custom umbrellas enjoy the highest retention of over 14 months during which it creates countless valuable impressions. Thus it will ensure a high return on investment for marketers. So, even if logo umbrellas involve a higher initial investment, the high value impressions that it makes during its shelf life will even it off.
Choose trending models
Umbrellas are not plain and black anymore. Today, umbrellas have undergone a lot of innovative changes that make it an engaging handout that is hard to miss. Inverted umbrellas that keep rain water trapped within its folds without falling into the floors is a great model for rainy season events and marketing campaigns. Hands-free umbrellas with a loop handle that can be managed with the wrist while freeing up the hand is another model.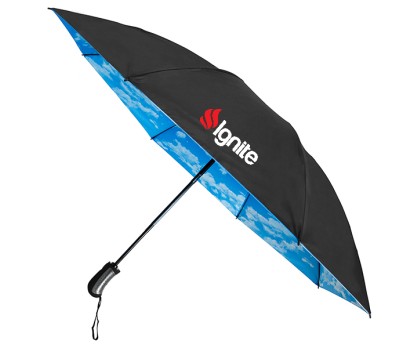 Multifunctional models like music umbrellas and flashlight umbrellas are popular models that will surely impress the audience. By offering the dual advantage of an umbrella and a music player, these umbrellas will tug the hearts of the outdoorsy crowd. It features 2 built-in stereo speakers with Bluetooth connectivity and water resistant features. Moreover, the low minimum order of umbrellas will make it a great swag for small scale promotions and budget marketers.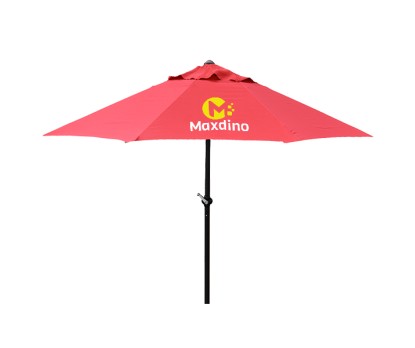 So, if you are interested in making custom umbrellas your marketing tools, explore our complete line of umbrellas to choose a model that will fit your theme