Custom Bubble Shaped Umbrellas- Custom Gifts That Will Make Heads Turn
Seasons do play an important role in influencing the promotional activities of marketers. Adverse weather conditions like rain or snow may not just put a spoke in the wheels of promotions for most marketers but will keep people indoors. That is what makes custom umbrellas a great addition to your promotions all round the year. Offered in a range of price rates and models, custom umbrellas will not just keep the recipients weather proof but will put your brand and message on a wide display in front of your target audience.
If you are looking for something quirky and interesting in custom umbrellas, look no further than these custom bubble shaped umbrellas with a lovely transparent canopy that will let the users see the blue sky or the rain without getting hit by bad weather blues.
Stylish and popular, bubble shaped umbrellas also double up as stylish accessories during parades, weddings and outdoor parties. The bell-shaped clear PVC canopy will offer a high visibility background for you to place your brand and message while the reinforced rib construction will ensure added durability. Customize it with your brand, message and artwork to make it a happening billboard for your brand.
For any umbrella to be popular, it needs to be stylish and made from fine quality materials. Transparent umbrellas will tick both these bills to make it an effective gift item that not many people can resist. No matter whether you use it as corporate gifts, employee appreciation handouts or store promotional items, transparent umbrellas will make a popular choice to consider. These custom gifts will also give your marketing message years of advertising exposure and will help you develop long lasting business relationships with your customers. By using top quality transparent umbrellas in your promotional campaigns, your customers will develop a positive impression about your brand, which in turn will further enhance your goodwill over time.
We have various interesting models in transparent advertising umbrellas to choose from. Made to last long and look good, these logo umbrellas will make a high value promotional gift that will meet all your business gifting needs.
Here are some of our best selling models that you will find interesting
Pink 48 inch arc Bubble Lollipop Umbrellas: 48" arc bubble lollipop umbrellas make an interesting gift choice as holiday gifts, party favors or store promotional items. The pink bordered canopy with part pink handle, ferrule and trim will never fail to grab the attention of people around. Customize the transparent canopy with your brand and message to make it a well retained custom gift for your customers.
Promotional Umbrellas w/ 6 Colors: Offered in 6 attractive colors, these bubble umbrellas make a great choice for color themed events or seasonal promotions. Your message and brand on these will get a lot of attention for sure.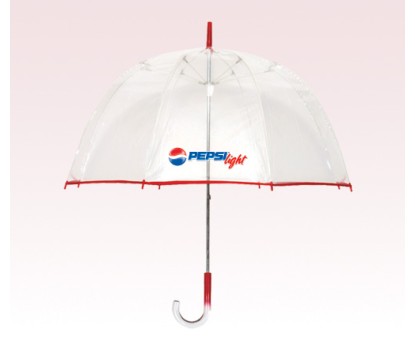 Browse our exclusive section of custom bubble umbrellas to choose a model that matches your promotional needs.