Custom Umbrellas – Great Handouts For Both Emerging And Established Businesses
There are a number of reasons why promotional umbrellas continue to be effective. It makes a perfect tangible handout to engage your customers with your brand as these remain physical reminders of your business with a larger impact than  traditional ads like billboards.  Human brain is hard wired to trust physical objects more than publicity strategies on the screens that flash by the eyes every moment.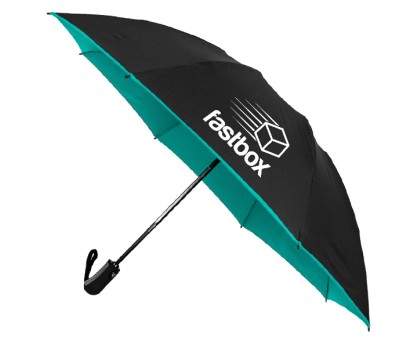 Freebies are hard to resist and especially when your custom giveaways have a higher perceived value like umbrellas, you are all set to have a big spike in your customer loyalty . High utility and trendy gifts like umbrellas will evoke a strong sense of reciprocity in the minds of your audience and they will be inspired to give something back to you by supporting your brand and often becoming a loyal customer.
Here are some key ways how custom umbrellas can positively influence your business, boost brand image and enhance revenue.
Great Return on Investment
Promotional umbrellas provide an impressive Return on Investment (ROI) as these will display your brand among the outdoor crowd, where your message will be seen by a large audience every time.  Well retained and long lasting, logo umbrellas can generate impressions long term not only from your primary recipients but also anyone who happens to see these trendy, branded umbrellas.
Umbrellas are an item that people use regularly and will often keep for years.  It is infact one of the longest retained handouts among promo gifts. Imprinted umbrellas are displayed frequently at places like beach, picnic spots or when people are out and about elsewhere. During this time, umbrellas generate a lot of valuable impressions for your brand.
Though umbrellas are not cheaper,  it will easily relate to your business and match your overall brand image. More expensive products will last longer and generate more impressions than cheap and tacky handouts with a very low shelf life.
Attract new customers and increase loyalty
High visibility giveaways like umbrellas are a proven way to draw new customers. In fact it gives them a taste of who you are and makes them far more likely to approach you. Value added gifts like umbrellas create a positive emotional association with your audience and creates happy customers who set off word of mouth publicity- often the best form of advertising.
Practical products like umbrellas are highly effective in not just getting your message across but even to highlight your core values and social commitment including environmental friendly promotional strategies.
Businesses of all sizes and niches can effectively use promotional merchandise like custom umbrellas as part of their marketing strategy. Versatile and highly practical, these can be utilized in any occasion or promotional context and will easily impress people of all ages.
How do you plan to use custom umbrellas as your promotional handout? Tell us your ideas on our instagram page and join and interesting conversation