Ecofriendly Umbrellas Make Great Gifts On World Environment Day
Every year, June 5th is observed as World Environment Day to promote awareness and action for the protection of our environment. Started in 1974, this campaign day is devised to enhance the awareness of environmental issues like marine pollution to global warming and sustainable consumption. This year's theme for World Environment Day is "Connecting People to Nature", which encourages people explore outdoors and live in sync with nature and make a vow to protect the Earth that we live. Businesses, NGOs and communities plan awareness events and campaigns to advocate environmental causes , undertake mailer campaigns and handout custom gifts that will remind their customers about this social cause and their brand alike.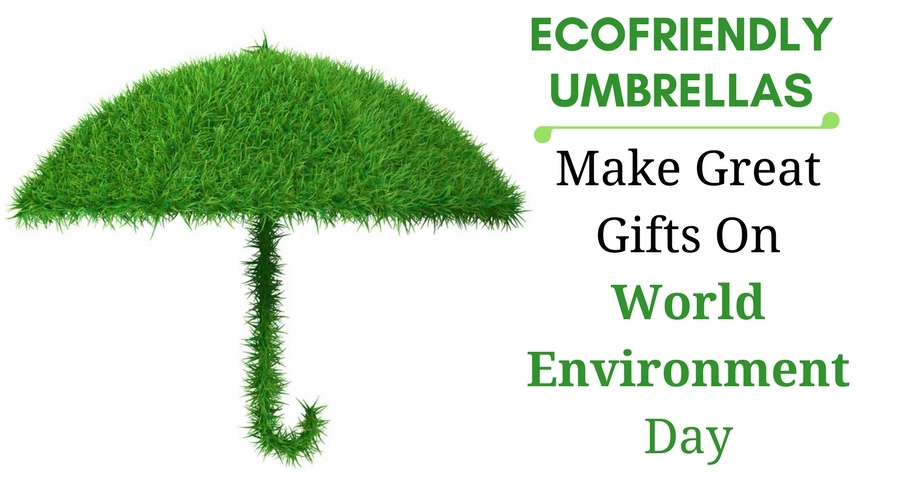 Businesses that wish to make World environment day their promotional theme will find these ecofriendly custom umbrellas a great choice to highlight their social commitment and their brand message alike. Here are some models that will highlight your environment day message.
Four Seasons Totes Ecobrella Auto Open/ Close Umbrellas: No matter what the season is, these four season totes will make a great choice. The frame made up of 70% recycled materials and canopy developed from 100% recycled PET plastic bottles and industrially certified fabric, bamboo handle will make it a great way to go green. The wide tie strap printed with 70% recycled message will drive up its ecofriendly credentials. It will make a perfect gift for anyone who loves nature and the best part is that these budget friendly umbrellas will offer discounts on bulk orders.
Hunter & White 42 inch Arc Windproof Umbrellas: These personalized umbrellas will make a great choice during World Environment day and other marketing events. This inspiring automatic open promotional umbrella grabs attention with its 42" arc hunter and white canopy. It simply folds to just 15" and possesses windproof frame construction. Personalize these with your brand and message and see how these logo items will show your ecofriendly profile to the world outside.
White & Green 60 inch Arc Golf Umbrellas The white and green 60" arc canopy, sturdy metal shaft and wooden handle will add up to the functional features of these attractive golf umbrellas. It will make a perfect choice during golf matches, eco friendly campaigns and exhibitions.
Eco-Green 44 inch Arc Eco Friendly Folding Umbrellas These ecofriendly umbrella will make a great choice for businesses and green minded individuals. 44" arc eco green canopy of this umbrella is made of crushed recycled plastic bottles while the eco handle created out of shredded reclaimed wood. These umbrellas that bring together style and substance in equal measures will grab easy attention of everyone around. The automatic open function and steel windproof frame will enhance its stability even during the most challenging weather.
Black 44 inch Arc Eco Friendly Folding Umbrellas The environment-friendly canopy, steel windproof- frame and ECO cover and handle are the main features of these umbrellas. This eco -friendly umbrella is a wonderful recycled product where its canopy is made up of crushed recycled plastic bottles while the handle is made of shredded reclaimed wood. These are great handouts for go green awareness events and promotions.
Umbrellas are functional gifts that everyone will retain for a long time. These ecofriendly credentials of these umbrellas will make these custom items all the more popular. Shop right away and make your environment friendly message stay loud and clear on the massive canopies of these umbrellas. Shop right away!