Check Out The Latest Colors In Custom Umbrellas That Will Brighten Even The Dullest Campaigns
Gone are the days when umbrellas were meant to be purely functional and unassuming. Today, umbrellas are available in a palette of bright colors, vibrant prints and innovative features. Interestingly custom umbrellas are one of the most popular promotional items among businesses thanks to its wide canopy that serves as an impressive billboard for your brand and message. It makes a versatile handout to promote all types of businesses as everyone needs umbrellas for their home, office and cars. One of the best retained custom gifts, umbrellas will never fail to highlight your business message.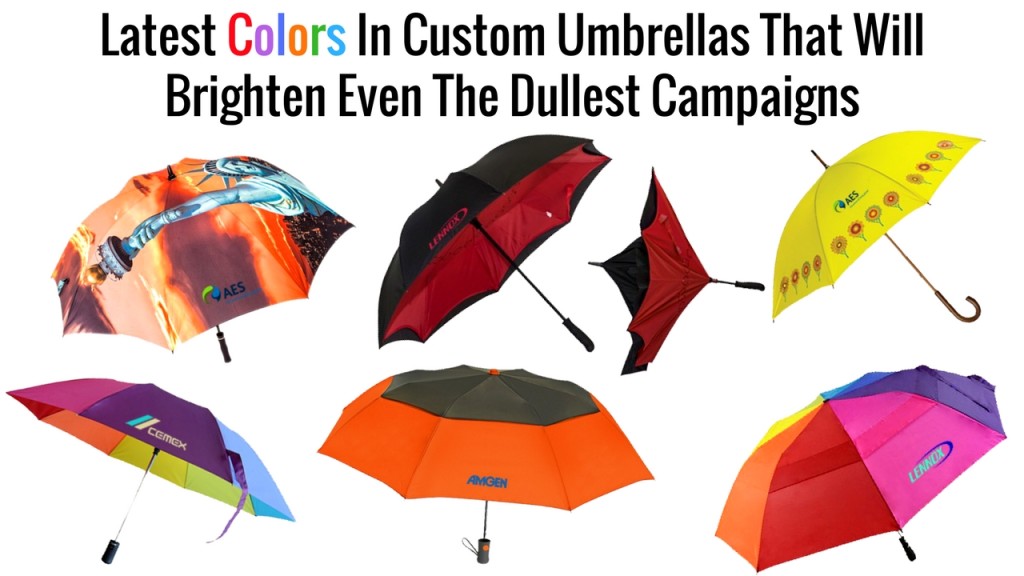 Now that the spring season is in its full glory and summer not far behind, custom umbrellas will make a great gift to consider. Every time your recipients stay safe from the stinging sunrays, your brand will stay well exposed! We have stocked up umbrellas of the latest trends and patterns just in time for the outdoor fun season.
To help you get started, we are listing out a few models that you will find interesting.
Star Rainbow Umbrellas
Say it with colors with these star rainbow umbrellas that stand out with its attractive rainbow patterns and vibrant colors. Personalize these with your brand and message and see how these pretty umbrellas will make your brand the talk of the town. These will make perfect options to promote golf leagues, fashion brands and beach activities among others.
Vented Graphite Crown Umbrellas
Umbrellas can't get any more visually appealing than these attractively designed crown umbrellas! The graphite upper vent and the brightly colored lower vent that is complimented with a color-coordinated handle will give this umbrella a stunning look. Your brand on these will never be missed too! These stunning Vented Graphite Crown Umbrellas that will grab easy attention for your message will make great awareness event gifts and employee handouts.
Rain or Shine Light Umbrellas
The name tells it all! Be it rain or shine, you can't go wrong when you have these umbrellas that double up as a handy source of light at night. Rain or Shine Light Umbrellas feature 6 LED lights in the handle- four lights for flashlight and 2 red for emergency flashing. These will make especially great gifts for employees who work in remote sites at night shifts and students.
Rebel Umbrellas
There is something more to it than what you see in this quirky Rebel Umbrella, which has a design that is as strange as its name! Though it appears like it is upside down, it opens to become a regular umbrella. This design will keep the water away when you close the wet umbrella and get into a car or a building. It also has a double-canopy design that will make sure that the umbrella doesn't get blown away in wind. So, if you have been looking for something innovative in brollies, place your card on this interesting custom rebel umbrella model.
MVP Rainbow Umbrellas
Let your customers have an umbrella that is as sturdy and reliable as your brand with these rainbow colored umbrellas with steel wind resistant frame with fiberglass ribs. Custom Printed MVP Rainbow Umbrellas is something that brings together form with functionality. Great as party favors and promotional items
Need more? Check out our range of custom umbrellas that will never fail to hoist your brand right over the heads of everyone. Happy shopping