Imprinted Umbrellas – The Best Tradeshow Swag For Winter
Fall and winter tradeshow season is on and it makes a great time for marketers to earn a place for their brand among the massive audience that tradeshows bring. Umbrellas make a perfect marketing tool all round the year as it comes handy for both rain and shine. These are stylish accessories and photo props as well. Add to it the big plus that custom umbrellas are a hassle-free way for your staff and clients to do some marketing for you without any annoying sales pitch.
Promote your business on the golf greens or an outdoor court with custom umbrellas and get spotted. To stand out in massive events like tradeshows where you rub shoulders with many other vendors, you need free gifts that are useful and impressive. Ideally, the tradeshow swag you choose should have a high perceived value and utility. An umbrella is a gift item that meets all these parameters.
Personalized umbrellas make popular giveaways at many tradeshows simply because they are highly useful. These logo items can be used to promote all types of brands and businesses and will please every genre of audience.
Tradeshow booths are expensive to procure, which makes it important to highlight your tradeshow presence with popular gifts like umbrellas that will stand out easily and outshine your competitors easily. Umbrellas will make your brand name stand out not just during the event, but also later- at golf greens, picnics, camping grounds, tailgating parties and more.
Mini Manual 3 Fold Umbrellas: Sleek and budget friendly, these light weight umbrellas make a great addition to your tradeshow swag. Offered in a range of colors, you can easily choose a model that matches your corporate color and theme. Personalize these with your brand and message to make it a walking talking billboard that everyone will love.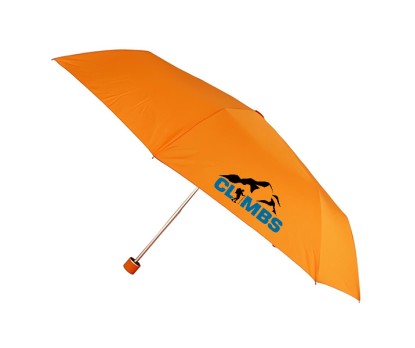 42" Folding Umbrellas. Colorful and compact, these attractive umbrellas can be imprinted with your brand, message or artwork to grab the undivided attention of the customers. The sturdy design and durable polyester canopy will ensure long-term visibility. You can bulk order them to make huge savings.
Wood Grain Handle Fashion Umbrella: It is perfect as tradeshow hand outs because your recipients will love it the moment they see it.  The auto open wood grain handle fashion umbrella can be stored in the matching fabric case with the shoulder strap. Put your brand on a panoramic display with these attractive umbrellas and make your brand the talk of the town!
Tell us about your favorite custom umbrella in our facebook page and join the conversation.