Say More With Less With Custom Umbrellas
Custom umbrellas printed with your message placed outside stores or event venues make a cost-effective way to attract instant attention.  It is available in various models and sizes including plain and printed. Logo umbrellas work fabulously well at different kinds of indoor and outdoor events. Spread awareness about your brand and products without being overwhelming by investing in custom umbrellas.
 Still wondering whether to invest in custom umbrellas to promote your business? These reasons will help you clear your mind!
Space savers
In big cities where space is a constraint, custom umbrellas will make a great choice to efficiently advertise your brand. Choose models like patio umbrellas in sizes that will fit your space, to make them a smart advertising option even in small spaces. The best part is that though umbrellas occupy less space, your design and message on it will be clearly seen from afar.
Easy to set up
Likewise, umbrellas are also easy to set up and transport across different promotional venues.  In fact, you can use it virtually anywhere you wish to advertise. The high portability is indeed the winning card of custom umbrellas. Add the umbrellas to the pole kits and the assembly is done. Moreover, these are simple to disassemble as well, which will increase the convenience quotient further.
Round-the-clock display
Printed umbrellas also offer consistent brand display and will fit any promotional theme. Apart from retail stores, they can be used at trade shows, product launches and more. Umbrellas will never look out of place in any promotional setting ad will ensure 24 x 7 brand exposure at one time investment.
In addition, custom umbrellas are relatively cheaper than conventional advertising like television and radio ads. Thus these logo items will give more value for your promotional dollars.
High retention
Made of superior quality material, umbrellas last long and look great. The exceptional longevity will give excellent brand awareness and the best of your money's worth!  Resilient enough to withstand the elements and all kinds of weather, custom umbrellas will never let your brand  even in hostile weather conditions.
Easy to customize
Available in various sizes, custom umbrellas are incredibly versatile. Moreover, umbrellas offer ample creative space for marketers to place their design and artwork. Come up with an interesting design that will get  well noticed and get the message across to your target audience.
Umbrellas are thus high value marketing tools that are affordable, versatile and attention grabbing that will take your business to the next level!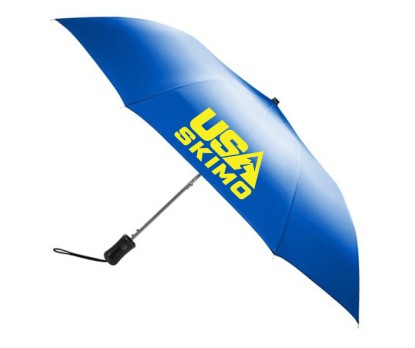 Engage the audience
If you are looking for a subtle handout to engage the audience with your message, look no further than custom umbrellas Even when these full color umbrellas remain in front of the eyes of the audience, they will never become intrusive.
Custom umbrellas make a great choice to capture new clients and introduce them to your brand. Ideal for all types of promotional themes including awareness events, holiday promotions and more, umbrellas will easily increase your brand awareness.
Create ads for different target audiences
 Umbrellas will also help you to reach specific target audience with ease, thanks to its portability. Just set it up in appropriate location to get the undivided attention of your target audience. For instance, if you wish to reach out to the golfing community, obviously customizing golf umbrellas for golf clubs and greens is the best option.
Are you interested in making custom umbrellas your promotional item? Browse our complete line of umbrellas to choose a model that will meet your needs.