All About Golf Umbrellas- Must Read
Playing golf is a passion for some and a profession for many. However, to make your golfing experience exceptional you need a perfect golf umbrella as part of your golfing equipment. The wide canopy golf umbrella will protect you and your golf gear from the rain and allow you to continue playing even in bad weather.
Here are a few tips to pick up the best custom golf umbrellas for your golf themed events and promotions.
What is the ideal size?
When it comes to the size of golf umbrellas the larger the better!  The large canopy will protect the golfers from UV risk and rain as the case may be and allow them to play their perfect shots. However it should fit in your golf bag as well and should cover your companion if needed. Models with vented double canopy will make a preferred choice as these can withstand wind and stand upright without getting blown inside out.
The materials used
Fiberglass and steel are most commonly used materials in golf umbrellas. Fiberglass will increase the strength and lightning resistant features of the umbrellas all the while keeping it light weight and sturdy.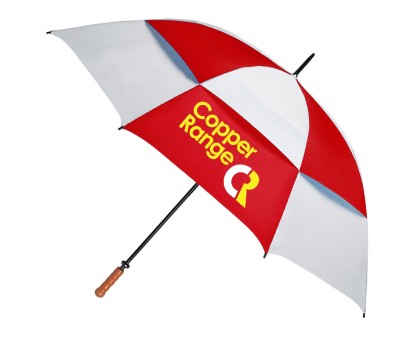 Other features
Golf umbrellas should be comfortable to carry, hold and open. Choose umbrellas with a comfortable handle with a nice grip that is easy on the hands of the players even when they have to hold it for long.
Bright colors
 Highly visible colors such as red will protect you against stray golf balls reducing possible injuries. So choose brightly colored golf umbrellas that standout nicely in the greens. For marketers who plan to use golf umbrellas as promotional items will have the added advantage of enhanced visibility for their message imprinted on these.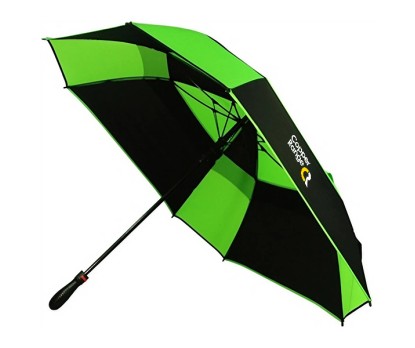 Fashion prints
Looking for something unique and attention grabbing in golf umbrellas? Check out these 62 Inch Arc Custom Printed Full Color Golf Umbrellas that make heads turn in the greens. The fully sublimated  canopy style will  make it eye catchy and unique. You can imprint a large image over the entire area of these custom umbrellas, thus achieving massive brand impressions. The huge 62 Inch arc is another  highlight of these humongous golf umbrellas that will make your brand imprinted  on it the talk of the town literally! . Rubberized handle will make it easy for the golfers to hold  these brollies while fiberglass ribs and shaft makes it light weight and lightening resistant.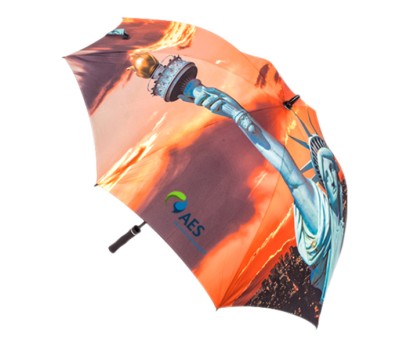 So, if you have been looking for an exceptional model in golf umbrellas that stands out from the rest of the crop look no further than  these  full color umbrellas.
Have more tips on golf umbrellas? Share with us on our facebook page to join an interesting conversation.