Custom Golf Umbrellas- Marketing Tools That Never Fail
Golf umbrellas will make a great way to get the message out in style not just for golf clubs and golf leagues but any business niche that wish to reach out to the golf loving community. A game of tee should not be cut short by bad weather and hence a good golf umbrella will make a great handout to consider.
Custom golf umbrellas make versatile and incredibly popular handouts that are here to stay forever. These custom umbrellas are ideal for any business event and occasion and make a great way to engage the dominant golfing community with your brand. In a country where golf is passion and a way of life, giveaways like custom umbrellas will make a great choice to strike a rapport with your audience in a subtle and interesting way.
How to choose a good golf umbrella?
A comfortable handle
Ideally the golf umbrella you choose needs a good handle and a comfortable grip that will make it easy for the players and caddies to hold it in the high wind conditions in the greens. There are many handles to choose from. Choose comfortable, durable and waterproof handles that will fit into the golf bags. Plus  it is recommended that you choose a long handle style instead of the curved handle style.
Sun protection
A golf umbrella with UV resistant canopy will make a good choice as the players spend most part of the day out in the sun
Massive size
The canopy of the golf umbrellas should be large enough to protect you and your golf bag and let you play golf comfortably in all types of weather conditions.
Sturdy Frames and vented design
Golf umbrellas should have sturdy fiber glass frames that will help it to withstand wind and rain. Lightening resistant, strong and light weight , golf umbrellas can perform well in all types of weather conditions. the vented design will let wind pass freely and keeps the umbrellas stable even in high wind without getting blown off by the lashing winds.
Bright colors
Ideally choose golf umbrellas in brilliant colors, which will enjoy a high visibility in the greens and make the players visible. Full color golf umbrellas make a great choice to consider.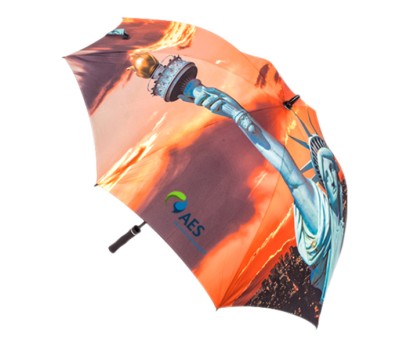 Customization
Golf umbrellas have a massive imprint space that will give ample space for marketers to place their message in style. Add  not just your logo and message but artwork, golf jokes or quotes among others to make it unique and leave a personal touch.
How do you plan to make your custom golf umbrellas a cut above the rest? Share your ideas with us on our facebook page.