Custom Golf Umbrellas Will Ensure The Winning Stroke For Your Promotions
Golf umbrellas have made it easy for the golf aficionados to follow their passionate game even during less than perfect weather conditions. The large canopy will keep the golfer dry and the golf kits and his caddie safe from the rain. The costly golf items need to be protected from adverse weather elements at all times to keep it in perfect condition.
Golf umbrellas have evolved to be style statements these days as these get used on the beach, picnics or even on the road. The celebrities found it highly useful to keep them under the shade during shooting or while going back to the caravan during intermissions.
 The massive canopy will ensure total protection and a lot of eyeballs for these big hand held umbrellas. Though golf umbrellas are huge they are light weight thanks to the fiberglass shaft and ribs that make them stand up against the wind and adverse weather without being heavy. The best part is that it will also make them lightning resistant.
Because of its large size, golf umbrellas make great promotional items by companies. Golf umbrellas turn into high visibility billboards that will make heads turn. There are single canopy and double canopy umbrellas with air vents that keep them stable in windy conditions.
Features of a good golf umbrella
Fiberglass shaft
Double canopy
Wide and comfortable grip which is easier to hold for longer periods
Auto opening
Size of 62″ is ideal for covering the golfer and his bag
Here are some of the best selling golf umbrellas that will make great marketing swag.
62 inch Full-size Most Popular Golf Umbrella: Lightning and wind resistant, these golf umbrellas have a sturdy fiberglass construction that will make it well suited even beyond the greens! Offered in a matching fabric case and shoulder strap, these golf umbrellas are easy to carry around. Light weight and easy to hold, these umbrellas prevent fatigue for the user and enable them to hold it for a long time.
62 Inch Arc Promotional Hurricane Golf Umbrellas: Add a pop of color to the greens with these vibrantly colored golf umbrellas that are made to look good and last long. The highlight of these custom umbrellas is the matching accent color on shaft, ribs, piping, ferrule and handle. Vented canopy, fiberglass wind resistant frame will make it a sturdy and reliable choice for the greens. Customize these to promote banks, golf clubs, leagues and more.
62 Arc Vented Square Golf Umbrella: Looking for something quirky? Settle for these square canopy umbrellas that will grab instant attention of anyone who sees it. Fiberglass shaft will enhance its strength and make it lightening resistant. Customize these with your brand and make your message stand out.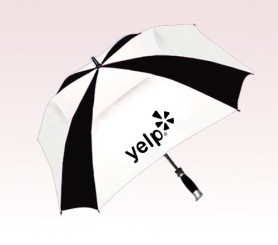 Need more? Browse our interesting mix of golf umbrellas in a range of sizes and models and make your message the hottest talking topic of golf lovers. Hurry, Golf season is here!