Imprinted Umbrellas For Golf Holidays And Events
Is a golf day on cards? You need umbrellas for the boot with your clubs. Golf umbrellas make great options as handouts for golf clubs and golfing events. These can even be used as sponsor gifts or fund raising items considering the incredible popularity that these logo items enjoy.
The hilly terrains of golf greens are more susceptible to sudden weather changes than the plains. So, custom umbrella is a must have item among the golf accessories for any player. Featuring excellent, storm-proof features coupled with brilliant colors and prints, golf umbrellas will easily fit any promotional budget with ease. Get your logo noticed at a low cost with these popular giveaways that will continue to rake up impressions for your brand for a long time even after the golfing event!
Golf umbrellas make handouts that are always welcome, have  a long lifespan and are highly visible. Though Promotional umbrellas are not often one of the first choices that may come to the mind of marketers, it offers the best value for your money and promotional advantage.
What makes promotional golf umbrellas such a good choice as a marketing item? It in undeniable the fashion features plus high utility that these umbrellas take credit of. Interestingly, golf umbrellas have become a must have item for everyone on the fashion high streets, corporate events and even in picnics and outdoor events. Thus anything imprinted on these logo items will never remain within the greens for sure! Get ample promotional advantage and consistent impressions at one time investment with custom golf umbrellas.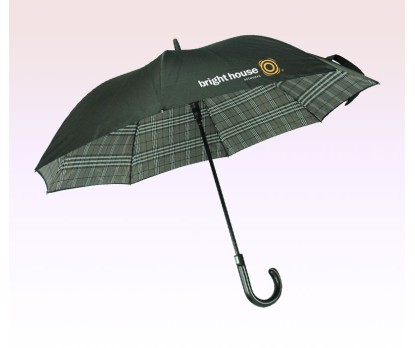 Get started with these crowd pleasing models in custom golf umbrellas
Hook handle umbrellas
Add a classic charm to the golf umbrellas with these umbrellas with a hook handle. Leatherette covered hook handle with contrasting stitching enhances the visual appeal of these umbrellas while the strong shaft and frame makes it  windproof. the reflective strip is another added advantage as it will help the players to stay visible even in low light conditions. Add your logo, message and artwork on these umbrellas to make it a happening billboard on the greens and beyond.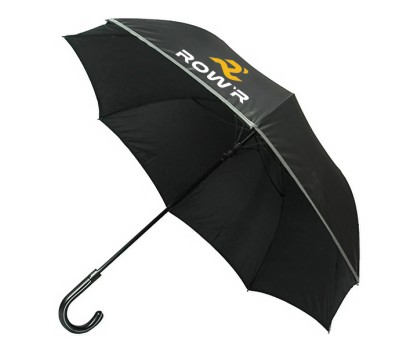 Full color golf umbrellas
Gone are the days when golf umbrellas used to be plain and formal.  It is impossible not to fall in love with these full- color dye sublimated golf umbrellas. Add a pop of color to the golfing accessories and make the players stand out in the greens while getting easy eyes on to your brand. Win- win. Put on your creative caps to come up with a stunning artwork or message that will literally pop out from the canopy of these umbrellas.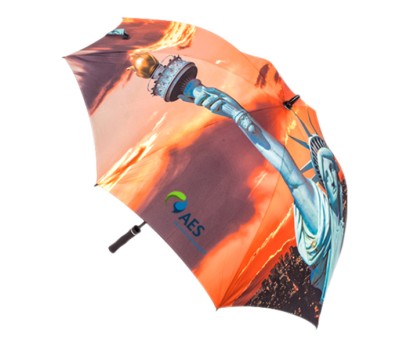 How do you think custom golf umbrellas will fit into your promotional sachem? Share your ideas with us on our facebook page