Custom Umbrellas  ensure Express Promotions and Great impressions!  
Looking for a handout for your customers, employees, or prospects ,that is functional and fashionable alike? Nothing can match the popularity of promotional umbrellas. Offered in a wide range of models and colors, umbrellas make a handout for all 4 seasons, for every occasion and for every taste and preferences. The best part is that these won't go out of trend!
 Custom Umbrellas not just provide shade from sun and showers but make great accessories, photo props and more.  From inverted umbrellas to umbrellas with speakers and coolers, there is an unimaginable range of options to consider. Impress your audience and make your brand stay on top of their minds with these incredibly popular logo items.
Visually appealing
Umbrellas add a pop of color and festive charm to even a low key and bland event.  Most umbrellas also come with UV resistant and windproof features, which make them ideal for patios, café fronts and outdoor tradeshows.
Easy to install
Easy to install and carry around, umbrellas make a temporary addition to your business space during fair weather events.
Durable
Custom  umbrellas made of sturdy materials like polyester fabric and steel frames are  outdoor friendly and long lasting. Strong wind-resistant materials and vented design will make these stand-up to even the most hostile weather conditions. Umbrellas have one of the lowest costs per impressions as anything imprinted on these will not get overlooked.
Here are some trending models that will tilt the stakes in your favor during promotional campaign
Mini folding umbrella
If convenience and portability matter the most to your customers, then put your cards on these light weight and compact mini umbrellas. Easy to carry for your audience wherever they go, these stylish umbrellas are the ultimate space savers too.  The users can slip these umbrellas into even a small handbag, which increases its popularity. It is always a smart idea to carry an umbrella to stay safe in the unpredictable weather conditions. Light weight, easy to carry and visually appealing, these umbrellas will make your customers feel reassured and confident even in bad weather conditions.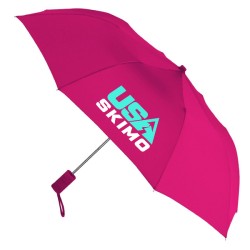 Outdoor commercial umbrellas
Earn the undivided attention of people around with these massive umbrellas like golf umbrellas, patio umbrellas for events and shop fronts. Apart from providing shade and comfort, these offer a unique marketing opportunity for businesses. Your brand message imprinted on these will be out for everyone to see.
Telescopic Folding Umbrellas
Vibrant color choices and auto open features will make these umbrellas a top choice. Featuring metal shaft with the rubberized handle and wrist strap for added convenience, these umbrellas will make a great choice to consider.
 Which of these custom umbrellas are you planning to use for your promotions? Do share your ideas with us on our facebook page.