Totes umbrella – the small wonder fashion statements

Cute and lightweight, custom totes umbrella has an auto open and close feature and a sleek design that makes it fit into your purse. Classic and always in fashion, custom totes umbrellas are designed for a life time. No matter whether you have to endure a sudden cloud burst or harsh sunshine, with a tote in hand you can never be caught unawares! Marketers have always promoted these custom umbrellas as these are chic and fashionable and never look out of place in any occasion. The attractive sticker price is another attractive feature of these totes that has made it a darling of the masses and the marketers in particular.
Totes umbrellas are offered in a bevy of attractive colors and prints and customization options. The canopy can carry a full imprint or the marketers can choose to get their logos imprinted on the borders to ensure maximum visibility. The logoed totes promotional umbrellas make value added gifts for brand building and though these could be a wee bit pricier than some of the other cheaper promotional umbrellas, these ensure long term marketing solutions.
Totes are available in various models including folding umbrellas, bubble umbrellas, golf umbrellas, stick umbrellas, animal printed umbrellas and mini umbrellas to cater to the diverse needs of the marketers and customers alike.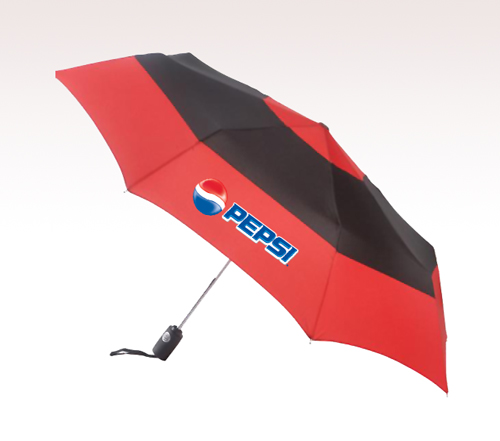 Head turning models
Personalized leopard print 38"arc totes jingle 'brella' has already left its name in the hall of fame by getting featured on Oprah Magazine. If you want to add a flash of color and novelty to your milestone celebrations and festive sales , this leopard printed umbrella could be a good option. Animal prints and designs have always been fabulous choices for marketers dealing with kids products. Forge some long lasting business relations and goodwill by gifting these attractive totes that would not just keep your customers well shaded from the vagaries of nature but also keep your logo well on display as the customers would simply love to flaunt these creative masterpieces.
Personalized four seasons 60" arc totes stormbeater golf stick umbrellas would attract the viewers attention in a flash. Offered in the unique four season shades, it stands out for its massive canopy and the imprint scope that it offers for the marketers. This umbrella is mostly employed by sports marketers or luxury products manufacturers. These also make wonderful giveaways for employees or regular business clients and to get the business messages of the marketers around.
Classic models
If you are an old school advertiser who believes in the timeless charm of classic models to get the business messages around, here are some popular models that would impress you.
The customized red 43" arc auto open/close logo umbrellas stand out for its color that would stand against any background. Affordable and classic, these totes make excellent gifting ideas during road shows and promotional events. Bulk orders carry attractive discounts and other benefits like free online design proof on US Umbrellas
Personalized four seasons 55 arc totes blue line golf size auto open/close umbrellas are high sounding promotional aids that bring out the business messages clear and loud. The expansive coverage over heads highlight the imprint from even a distance. It can be an ideal gift for summer promos or golf season events.