Interesting Ways To Use Umbrellas In Business Promotions
Custom umbrellas make handouts with a high perceived value that will offer assured ROI for marketers.   Everyone will surely be excited to get  handouts like umbrellas for free because it is something that everyone needs in their lives. Custom umbrellas come handy to stay safe from elements and to boost the outdoor style of the users. Available in a brilliant range of colors and trendy models, custom umbrellas offer a lot of choices for marketers.
Invariably what makes custom umbrella a marketer's delight is its massive canopy that sets a perfect canvas to position your brand and message. Apart from your brand , you can consider adding an interesting artwork, taglines or quotes that pique easy interest of the audience.
Umbrellas are versatile giveaways that will fit into any marketing plan. However, here are some promotional situations where you can especially use custom umbrellas effectively.
To promote Farmer's Markets
According to the U.S. Department of Agriculture reports of 2019, there are more than 8,000 farmer's markets across the US. Logo umbrellas will indeed make a brightly colored backdrop to showcase your local farmer's market. Customize it with your own design for advertising the best your community has to offer!
For Small Businesses
Custom umbrellas will also make an incredible way to advertise your business to everyone passing by, inviting them to stop in and see what's new! Whether you are a newly opened  coffee shop or a family owned apparel store that's been in the community for generations, custom umbrellas will surely make a fun way to engage the audience with your message. Choose models like patio umbrellas at the store front to grab easy attention of  people around.
Sporting Teams and Local Sponsors
From colleges to high schools, sports teams are everywhere!  When you are supporting your local sports team, custom umbrellas will be a popular and effective way to secure sponsorships while advertising  your business in a cost effective way. A win-win for everyone!
Marathons
Umbrellas make a great promotional swag to promote your local running event – from 5k's to marathons and everything in between.  Make your message pop by putting a few custom umbrellas at the starting point and registration counter. Apart from being a handy shade for the runner, it will also make a blaring billboard for your logo that stands above the crowds.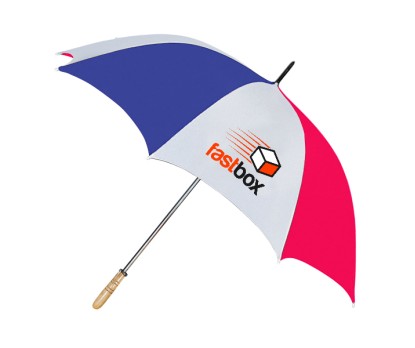 Political Campaigns
The name of any political campaign game is to make your candidate's name popular.  Custom umbrellas will  also work tirelessly to get your campaign message across to the  voters at one time cost. Design eye-catching, reusable political banners to rally voters to the booths on the Election Day.
Holiday Events
Celebrate  the holiday cheer and ensure a joyous makeover to your store front with these colorful custom umbrellas. A richly  colored, festively designed  umbrella will obviously enhance the holiday cheer. Whether you're promoting your community's annual winter wonderland extravaganza or local holiday;, logo umbrellas will surely add up to the merriment and cheer. If you have the dough to spare, you can even hand out full color fashion umbrellas imprinted with the holiday images to spread the word and get everyone in the holiday shopping mood.
Browse our complete line of custom umbrellas to choose a model that will match your promotional theme